A baby CR-V for when the kids move out
Article content
In British English, "white goods" are any sort of large household appliance. Of course, these days we expect our dishwashers and refrigerators to be made of stainless steel and connect to the internet for some reason (Why? Who decided this was a good idea?), but the name stuck. And for many families, the largest white good of them all is the family crossover.
Article content
Well, I say "family," but here the term's not quite right. This is the 2023 Honda HR-V, now based on the Civic rather than the smaller Fit. You can see the similarities easily in its new long-nosed profile. Before, it was a clever little crossover with all the sporting intent of a souffle, now it's Honda's answer to the Toyota Corolla Cross.
Article content
Appliance is an epithet in most automotive enthusiast circles, where performance is put on a pedestal and everyone seems to want razor-sharp steering and a ride as unforgiving as some parts of the Old Testament. On a wider scale, this standpoint is slightly insane. You don't want your toaster to try to kill you, you want it to not burn the bread and last long enough that one of your kids steals it when they go to university.
Article content
Taking that view, the HR-V checks many of the required boxes. It is slightly more powerful and roomy than the previous model. It comes with a trusted badge on its nose. It is flexible and practical and thrifty on fuel. Ownership should be low effort. Job done then? Not quite.
First, while the HR-V's new Civic underpinnings give it slightly more verve on the road, sportiness levels here are moving from souffle to, I don't know, quiche or something. The suspension and chassis have more of a Honda feel to them, but the very light steering does not, and the powertrain lacks bite.
Basically, the HR-V feels like Honda's engineers decided fuel economy was more important than responsiveness. Not a problem: to come back to our dishwasher/oven/microwave comparison, isn't an energy efficient appliance more desirable? The HR-V is rated at 9.4 L/100 km in the city and 7.8 L/100 km on the highway, and in mixed-use testing it did 8.5 L/100 km all day long. Hang on a second. That's actually slightly worse than the larger CR-V.
Article content
And it's not like the economy is down to power delivery. The HR-V's 2.0L four-cylinder makes 158 hp at 6,500 rpm and 138 lb-ft of torque at 4,200 rpm. It's paired with a continuously variable transmission, and in this tester's EX-L trim, feeds that power through all four wheels. The resultant performance is not dangerously slow, but it is nowhere near as lively as you get in a Civic hatchback with the 1.5L turbocharged engine.
However, it must be said that — apart from shorter highway onramps — the HR-V offers an easy and relaxed driving experience. Shorter drivers will enjoy the higher ride height, and the light steering lends itself to a relaxed driving style. Further, this car is not quite as soft and disconnected as a Toyota product can be. It's less sharp than a Civic, but enjoyable in its own way.
Article content
Comfort and convenience on the inside are both improved and also a little less clever. The three generations of Fit we got here in Canada felt like the last true proper small Hondas, filled with all sorts of smart solutions — not least of them the clever folding seats. The old HR-V had a bit of that flavour. This new one makes space the old fashioned way: it's just bigger.
First Drive: 2023 Honda HR-V

Family Vehicle News: Inside Honda's 2023 CR-V, and (finally) driving the VW ID. Buzz
Still, the floating bridge setup between the seats provides a bit of extra storage, and overall the cabin has plenty of cubbies. Including a bizarre little space to the left of the steering wheel that looks barely big enough to hold a couple of quarters, but not sloped enough to prevent change from falling out.
Article content
The front seats are comfortable enough, but it's the rear where legroom has really been improved. Given the possible use case of this car, I think most buyers might have preferred to keep the old model's flip-up seat bottoms instead of a bit more comfort for passengers, but we'll get to that in a bit.
Onboard technology is probably the greatest improvement over the old HR-V, as the new car benefits from all the improvements the new Civic got. Smartphone connectivity is not always super rapid — you can sometimes be driving down the road still waiting for Apple CarPlay to kick in — but Honda's system is overall much easier to use than its older infotainment. Wireless charging and wireless Android Auto and Apple CarPlay connectivity are offered on the top trim only.
Article content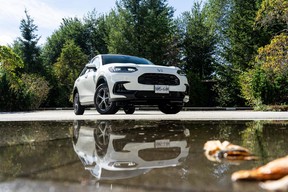 Navigation is, surprisingly, a Canada-only feature. Honda USA left it off, figuring that owners would just use their smartphones instead. So why did Honda Canada make a different choice?
Well, note that the HR-V offers dual zone climate control up front, but has no air vents for the rear. Not to pull a Poirot here, but it's clear Honda prioritized front seat passengers here.
Families buy the CR-V. (In droves — sales last year topped 50,000, only slightly behind the RAV4.) Younger buyers might be tempted into a Civic hatch. Or, more likely, they're driving around in mom's old CR-V, trying to save for rent. The HR-V feels like it was built to replace that CR-V for empty nester mom or dad, capable of carrying the grandkids once in a while, but mostly just a not-too-big machine for getting around town. Hence, available onboard navigation for people who don't like fussing around with smartphones.
Article content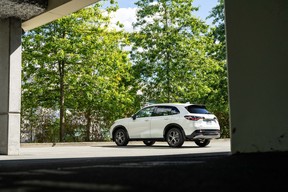 It's the only way the pricing makes sense. This EX-L with navigation pings the register at $37,130 plus freight and taxes. A 2022 EX-L trim CR-V is under $40K, with more power, and more space. A front-driver HR-V undercuts a Civic hatchback slightly in pricing, but anything in the mid-range shows the Civic better equipped for less money.
Instead, the HR-V makes the most sense as an easy to park and drive runabout, with a hip point that means it is neither too high nor too low to climb in. The fuel economy is reasonable, and the simplicity of the powertrain will be a draw to those who don't trust the longevity of a turbocharger.
Thus, an appliance that is not a standout in any one area, but represents a nice, safe, undemanding choice. Which is not to say an owner might not grow fond of their HR-V moreso than their toaster. But they still might buy both in white.
Denial of responsibility!
Pedfire is an automatic aggregator of the all world's media. In each content, the hyperlink to the primary source is specified. All trademarks belong to their rightful owners, all materials to their authors. If you are the owner of the content and do not want us to publish your materials, please contact us by email –
[email protected]
. The content will be deleted within 24 hours.