The longest, shortest, oldest bridges in Canada, plus the most anticipated bridge
Article content
There are over 50,000 bridges in Canada and each one has its own unique history. Have you ever wondered what the oldest bridge in Ontario might be? How short is the shortest bridge? Did you know the busiest bridge in Canada carries over 50 million vehicles per year?
Article content
While we may not have the capacity to write about every single bridge in Canada, we can hopefully pique your interest in a few of the impressive structures across the country. Here are eight Canadian bridges that cross the longest (and shortest) path between interesting and impressive.
Longest bridge in Canada: Confederation Bridge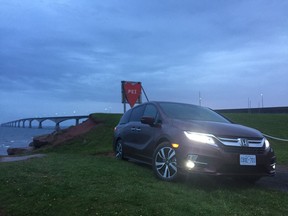 Opened on May 31, 1997, the Confederation Bridge — Canada's longest bridge — connects Prince Edward Island and New Brunswick across a span of 12.9 kilometres.
Construction took place between October 1993 to May 1997 at a whopping cost of $1.3 billion. Built on 62 piers, this 11-metre wide bridge takes around 15 minutes to drive cross; it's only open to automotive traffic, and interestingly, tolls are only charged when you're leaving Prince Edward Island.
Article content
During the initial naming process, the federal government received several suggestions, one being the Abegweit Crossing, which honours the Abegweit Passage that the bridge crosses. That name was overruled by the Canadian government, and Confederation Bridge was chosen instead. In April 2022, The P.E.I. legislature unanimously voted for the federal government to consider changing the name to "Epekwitk Crossing" to honour the Indigenous people; the name change needs to be approved by the federal government.
Exploring Quebec's Gaspé Peninsula in a 2023 Kia Sportage Hybrid

Cross-Canada Road Trip: Whitehorse to Toronto in two 2022 Toyota Tundras
Shortest bridge in Canada: Zavikon Island Bridge
Article content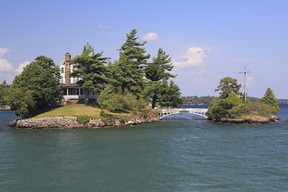 In the 1000 Islands region and at a length of only 32 feet long, this quaint Zavikon Island bridge in the St. Lawrence River allegedly connects a Canadian island with an American one. However, this story isn't entirely correct. Untrue tales include the smaller island being in the U.S. and the bigger in Canada, or that the bigger island is actually on a U.S. and Canadian boundary, making the island a part of both countries. What's more is that tour guides often refer to the bridge as the shortest international bridge.
However, this Canadian government website shows both islands being Canadian. In addition, the boundary agreement drafted between Canada and U.S. declares that no island can be split into two territories.
Article content
So, the bridge may not be the shortest international bridge, but it remains the shortest bridge in Canada.
Fun fact: the connected islands are owned by the same person. (Imagine having bragging rights to an island, let alone two!)
Oldest bridge in Ontario: Lyndhurst bridge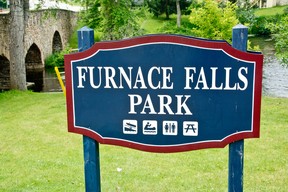 This stone bridge was built between 1856 and 1857, a full decade before Confederation and as such, it's Ontario's oldest. The three-arch bridge was designed by John Roddick and built by Miles Fulford and Simon Ransom. After almost 130 years of use, the bridge received an interior frame of load-bearing reformed concrete in 1986.
Still in use, the bridge carries a single lane over the Gananoque River.
Only covered bridge in Ontario: West Montrose Covered Bridge
Article content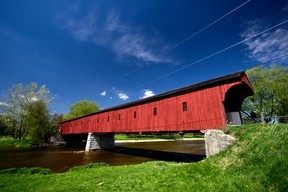 Found in the Waterloo region is the last covered bridge in Ontario, the West Montrose Covered Bridge. At 128 feet long and built between 1880 and 1881 by John Bear, the historic bridge primarily consists of oak and white pine. However, with numerous improvements and reinforcement added over 100+ years, the bridge now consists of wood, stone, asphalt, concrete and steel. It's open to foot traffic, buggy traffic and if your vehicle is less than three tonnes, you can drive across it.
The West Montrose Covered Bridge is also known as the 'Kissing Bridge.' It earned that nickname given the privacy it offered those who crossed it.
Most anticipated bridge: Gordie Howe International Bridge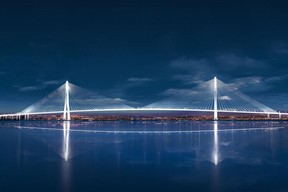 Expected to open in 2024, the Gordie Howe International Bridge is the answer for those who are exasperated with the current Ambassador Bridge. Connecting Windsor and Detroit over the Detroit River, the 2.5-kilometre cable-stayed bridge is 220 metres high and has a ground clearance of 42 metres.
Article content
There will be six automotive lanes, as well as a bicycle and pedestrian walking lane. It's expected to hit a daily rate of approximately  26,500 by 2025.
With an estimated build cost of nearly $6 billion, it's likely that anyone who currently crosses using the Ambassador bridge will say it's worth every penny.
Longest covered bridge in Canada: Hartland Covered Bridge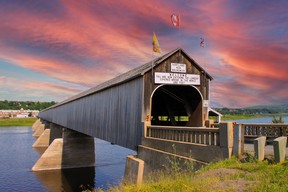 New Brunswick is home to the world's longest covered bridge, the Hartland Covered Bridge. Spanning 391 metres, it crosses the Saint John River from Hartland to Somerville. The bridge opened in 1901 as an alternative to ferry-crossing, but it was not built as a covered bridge.
Sadly, on April 6, 1920, river ice caused the collapse of two parts of the bridge. Thankfully, it reopened in 1922 after repairs, which is when the cover was built. This one-lane bridge saw the addition of a pedestrian walkway in 1945, was declared a national historic site in 1980, and a provincial historic site in 1999.
Article content
If your vehicle is less than 10 tonnes and lower than 4.2 metres, you'll be permitted to drive across it. 
Highest level bridge in Canada:
 

Lethbridge Viaduct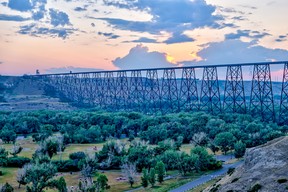 Between November 1907 and June 1909, the majestic Lethbridge Viaduct was born. Created by a need for rail transit and access for the coal mines, this bridge — built by the Canadian Pacific Railway — is 1.6-km long and is still used today.
The staggering price tag for this bridge was $1,334,525 was — roughly $43.2 million in today's economy — and given its longevity and usefulness, it was a smart investment.
This trestle bridge is the longest, highest bridge of its kind worldwide and towers 96 metres above the river bed. The steel railway bridge sits on 33 braced, riveted steel towers and is one of Canada's hidden gems. 
Article content
Busiest bridge in Canada: Samuel de Champlain Bridge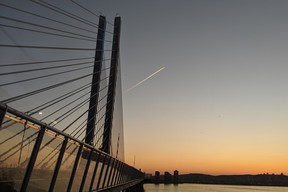 Carrying over 50 million vehicles per year, Montreal's cable-stayed Samuel de Champlain Bridge take the crown as the busiest bridge. It opened in 2019, replacing the old Champlain bridge which was built in 1962. The new bridge has an approximate lifespan of 125 years.
Why the replacement? The decades of de-icing salt wore down the old bridge to the point of a replacement being needed. The 3.4 km bridge took four years to complete and is open to automotive and pedestrian traffic and in July 2022, it was opened to light rail traffic.
Connecting Brossard to Montreal, the bridge has three decks and is one of the world's widest bridges at 50 metres.
Denial of responsibility!
Pedfire is an automatic aggregator of the all world's media. In each content, the hyperlink to the primary source is specified. All trademarks belong to their rightful owners, all materials to their authors. If you are the owner of the content and do not want us to publish your materials, please contact us by email –
[email protected]
. The content will be deleted within 24 hours.