At this time of the year, when everything starts to awaken, crocuses spring up and there are squirrels aplenty among the leafless branches for my dog to lust after through the windows, my palate tends to change, too. Moving on from the hearty stews and countless sticky toffee puddings of winter, I crave something sharper, lighter and a little more fragrant. These bakes are a celebration of time moving forward.
Rhubarb, orange and coconut bostocks (pictured top)
Invented most likely as a way of using up stale slices of brioche, bostock is one of my favourite bakes to throw together – it's a great alternative to french toast for breakfast. This version admittedly requires a little more work in the form of poaching rhubarb, but the sweetened tang and blushing pink colour is undoubtedly worth it. Ordinarily, this would be made with an almond cream (not a frangipane, which is two-thirds almond cream and one-third pastry cream, as many writers often mistake), but I've been craving the grainy chew of coconut macaroons recently, so married the two.
Prep 10 min
Chill 2 hr+
Cook 45 min
Makes 4

For the poached rhubarb
300g rhubarb, cut into 3cm pieces
60g caster sugar
Juice and zest of 1 orange
For the bostock
4 x 3cm slices from a stale(ish) brioche loaf
75g desiccated coconut
75g caster sugar
75g unsalted butter
¼ tsp fine salt
1 large egg
3 tbsp rindless marmalade, to glaze
Pearl sugar, to decorate (optional)
A few hours (and ideally a day) before you want to make the bostock, prepare the rhubarb. Put the pieces in a medium saucepan with the sugar and zest. Measure the orange juice into a jug, then top it up with water to make 200ml. Add the liquids to the pan, bring to a simmer, cook for five minutes, then turn off the heat and leave to cool in the pan. Cover and refrigerate until cold.
Heat the oven to 180C (160C fan)/350F/gas 4.
Lay the brioche slices in a baking tray. Carefully lift the rhubarb slices out of their poaching liquid and on to a plate. Using a pastry brush, brush the rhubarb liquid over the brioche slices, soaking them liberally, but not too much – I had a little leftover syrup, which I merrily knocked back like a shot of tequila; you could be a little more refined, though, and pour it over Greek yoghurt, say.
In a large bowl, use a handheld electric mixer to beat the coconut, sugar, butter and salt until well mixed. Add the egg and beat to a thick, grainy paste. Divide the paste between the four soaked brioche slices and spread out right to the edges. Top with the rhubarb pieces, then bake for 20-25 minutes, until golden brown.
In the last few minutes of baking, pop the marmalade and a splash of water in a small saucepan and bring to a boil. Once the bostock come out of the oven, glaze them liberally with the hot marmalade, then leave to cool. Scatter over the pearl sugar and serve.
Lemon and gingernut no-bake tart
I love a classic French tarte au citron, but sometimes the faff of making pastry, blind-baking it, then carefully baking a lemon custard until it has that mesmeric, just-set tremble can all be a little overwhelming. This tart offers the same jaw-tingling, mouth-puckering joy with a quarter of the effort. Purists look away, because the filling, a lemon crème patissière, is what I call an anarchic curd; the cornflour fortifies it, which means it can be heated to boiling point without the eggs scrambling. It makes curd-making a swifter, simpler process.
Prep 10 min
Cook 30 min
Chill 2 hr+
Serves 8

For the base
220g ginger nut biscuits
½-1 tsp fennel seeds (optional, but lovely)
50g unsalted butter, melted
Creme fraiche, icing sugar and thyme leaves, to finish
For the lemon custard
300ml lemon juice (ie, from about 6 large lemons)
Zest of 2 lemons
75g unsalted butter, diced
200g caster sugar
4 large egg yolks
25g cornflour
For the base, put the biscuits, fennel seeds and butter in a food processor and blitz to a damp, sandy consistency. (If you don't have a food processor, simply bash the biscuits to fine crumbs, add the other ingredients and mix.) Tip into a 20cm loose-bottomed fluted tart tin, then press the biscuit crumbs evenly on to the base and up the sides. Refrigerate while you make the custard.
Put the lemon juice and zest, butter and half the sugar in a medium saucepan and set it over a low heat, until the butter melts. Meanwhile, in a heatproof bowl, whisk the remaining sugar with the egg yolks and cornflour, until the sugar is mostly dissolved and the mix is pale and a little more voluminous.
Bring the lemon juice pan to a boil, then pour in a thin stream on to the egg yolk mixture while whisking constantly – put a dampened tea towel underneath the bowl to stop it spinning around. Once everything is well mixed, pour it back into the pan, off the heat for now, ensuring you scrape out every last bit.
Return the pan to a high heat and whisk constantly, ensuring the whisk is touching the base of the pan at all times to prevent the eggs from scrambling – if they do, I'm afraid it's time to start again. If at any point you need to stop whisking, take the pan off the heat and dip the base in cold water. The custard should be at boiling point to ensure the cornflour is cooked properly.
Pour the hot custard on top of the biscuit base in the tin, then cover with clingfilm or baking paper, making sure it touches the surface of the custard to stop a skin forming. Leave to cool to room temperature, then refrigerate for a few hours. This tart is lovely served with a blob of creme fraiche, a dusting of icing sugar and a few thyme leaves scattered over the top.
Malted tea tres leches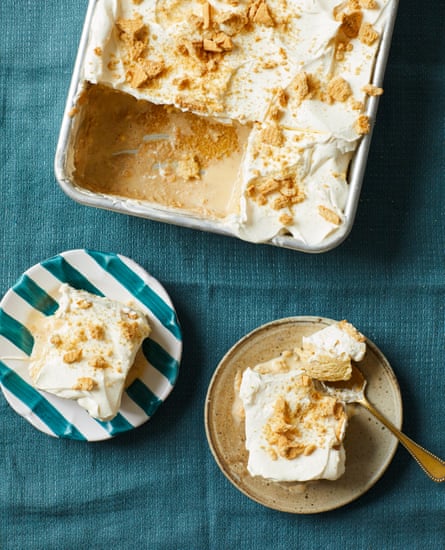 This take on the Latin American classic tres leches cake is quite possibly my favourite cake I have ever made. I don't make that claim with reckless hyperbole; it really is amazing. The name translates to "three milks", because, traditionally, it's soaked with a mixture of both evaporated and condensed milk, then mixed with cream. I've gone a step further and added buttermilk, too, which, thanks to its acidic qualities, helps make the sponge even lighter.
Prep 20 min
Cook 25 min
Chill 2 hr+
Serves 10-12

For the sponge
6 large eggs, separated
200g caster sugar
25g malt extract
120g buttermilk
225g plain flour
1½ tsp baking powder
½ tsp fine salt
For the soak
450g evaporated milk
4 English breakfast teabags
397g can condensed milk
15g malt extract
240g double cream
For the topping
300g double cream
25g caster sugar
6 malted milk biscuits
Heat the oven to 180C (160C fan)/350F/gas 4, and have ready a 33cm x 23cm baking tray, though, contrary to common operations, do not grease it.
Whisk the egg whites to stiff peaks, then gradually add 100g of the sugar to make a stable but soft meringue.
In a second bowl, whisk the egg yolks with the remaining sugar and malt extract until pale, then beat in the buttermilk. Fold the egg yolk mixture into the meringue.
Sift the dry ingredients into a bowl, then fold them a third at a time into the egg mixture, being extremely careful not to knock out much air.
Once you have a smooth batter, pour it into the baking tray and level off. Bake for 20-25 minutes, until a skewer comes out clean, then leave to cool completely.
For the soak, put 300g evaporated milk in a pan with the teabags. Bring to a boil, then take off the heat and leave to infuse for 20 minutes. Strain the infused evaporated milk into a bowl, then weigh it. Add more evaporated milk to bring the total back up to 300g, stir in the condensed milk and malt extract, then mix in the double cream.
Stab the cooled cake repeatedly with a kebab skewer or chopstick, then pour the soak over the top. Leave, covered, in the fridge for two hours, though overnight is best.
To finish, put the cream and sugar in a bowl and whisk to soft, floppy peaks. Dollop the cream on to the cake and spread it out evenly. Just before serving, bash the biscuits to crumbs and sprinkle over the top of the cream.
Pistachio, orange and brown butter friands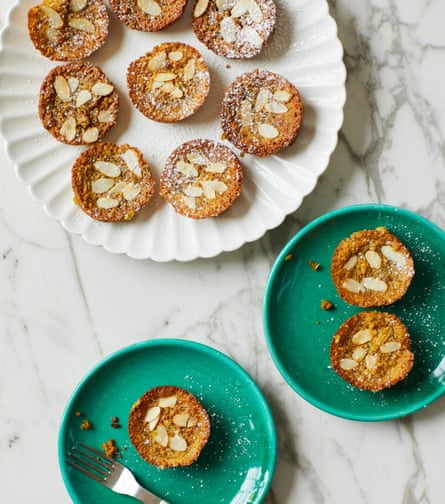 These little cakes, which are made with egg whites for extra chewiness and brown butter for such an unmatched depth of flavour, are so simple to throw together (once you've made a batch of brown butter, that is, but I consider that an important life skill). If you wanted to drizzle over a little orange blossom honey before serving, that would be delicious, but in their basic, non-honeyed form, and simply dusted with a snowfall of icing sugar, these are perfect. And – win-win – they're gluten-free, too.
Prep 10 min
Cook 40 min
Makes 9

120g unsalted butter, cubed, plus extra for greasing
80g pistachio nuts
30g Bird's custard powder (or cornflour)
120g caster sugar
Zest of 1 orange
¼ tsp fine salt
3 large egg whites
Small handful flaked almonds
Icing sugar, to dust
Heat the oven to 200C (180C fan)/390F/gas 6. Grease nine of the holes of a 12-hole muffin pan with butter – to ensure the friands don't stick, it's best to grease with butter, chill in the freezer, then repeat.
Put the butter in a saucepan on a medium heat and leave to melt. Increase the heat, bring up to a bubble then swirl the pan occasionally, until the butter smells gloriously nutty and has a fine, cappuccino-like foam on top. Take off the heat, pour into a bowl and leave to cool.
In a small food processor, grind the nuts, custard powder, sugar, zest and salt to a fine powder.
In a bowl, whisk the egg whites to a mousse-like foam, then fold in the dry ingredients. Fold in the cooled brown butter, just until you have a smooth batter. Divide between the greased holes of the muffin pan, top with a scattering of flaked almonds, then bake for 15-20 minutes (mine took 17 minutes), until puffed up and firm. Turn out on to a wire rack and leave to cool. Dust with icing sugar and serve.
Denial of responsibility!
Pedfire is an automatic aggregator of the all world's media. In each content, the hyperlink to the primary source is specified. All trademarks belong to their rightful owners, all materials to their authors. If you are the owner of the content and do not want us to publish your materials, please contact us by email –
[email protected]
. The content will be deleted within 24 hours.