With each hurricane comes a flood of salvaged cars. Know the signs to avoid buying a salvaged nightmare.
Article content
Ten years ago, Hurricane Sandy descended on the eastern seaboard of the United States. The photos of expensive vehicles bobbing in storm surges flooding Manhattan parking lots were a vivid reminder that there is little room to run in the face of an all-encompassing natural disaster. 
Article content
"The Insurance Crime Bureau said over 230,000 cars were damaged by the hurricane, predominantly by the ocean water that surged into seaside communities, filling engines and interiors with sand and corrosive saline," The New York Times reported. Hurricane Harvey, in 2017, is said to have trashed a million cars in the Houston area. Katrina, Maria, Fiona, Ian — all have left behind enormous swaths of damage evident to anyone, but when the waters recede, some destroyed vehicles can, at first glance, seem recoverable.
Article content
They're not.
Weak American state-to-state laws have made it easy in that country for dishonest sellers to wash titles and resell vehicles that have often been written off by insurance. Canada, fortunately, hasn't seen an influx of flood-damaged vehicles to date. Against a strong U.S. dollar, our used cars flow in the opposite direction: south. That far larger market is also a more accessible place to unload flood cars without the hassle of trying to bring them here. But with the current, ongoing upheaval of the automotive market, consumers should still be aware of possible red flags, how to avoid them, and what to do if someone did scam them.
Article content
Road to nowhere: B.C.'s mud slides and floods underscore our reliance on remote highways

Beware of hurricane-affected cars flooding the used market
Warren Barnard is the executive director of the Used Car Dealers Association (UCDA) of Ontario. While he agrees flood cars haven't historically been a significant issue here in Canada, he notes there are things consumers should always be aware of.
"Inventory levels are at historic lows, and dealers are searching beyond their usual hunting grounds," he says. "Vehicles are moved across the country." The UCDA recommends using only registered dealers which gives buyers OMVIC's backing. He also says you can check the timing in a Carfax report. If a bad seller is trying to unload a vehicle claimed by the devastating damage that Fiona left behind on the east coast, it will be three to six months after that date. 
Article content
There is a difference between a seller not knowing a car is compromised, and not disclosing that they do know. With registered dealers, you have protection; if you're buying privately, you lose that. 
George Iny, president of the APA, explains another way damaged cars can make their way back into the food chain. "My understanding is that vehicles not insured against flood damage are the ones to look out for. Their owners trade them in quickly after water damage, knowing there will likely be gremlins (or having tried to correct some), and without declaring the damage to the dealer that takes the vehicle in trade or with the collusion of the party taking the vehicles. The vehicle is then sent out of the jurisdiction to be sold to a buyer exporting to Canada."
Article content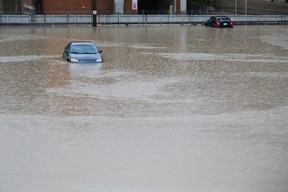 Got your heart set on a car you're not sure about? Take heed of these comments from APA expert car inspector Andrew Blakely: 
"All vehicles rust. When caused by driving and climate, it is usually odourless and a yellow to brown colour. Water-damaged cars are very different: flood rust is orange to red, and has a blood-like metallic iron smell. Vehicles under water for any time, if not completely cleaned properly within a couple of days, will always have mould. The smell is strong enough to be intolerable, so shops/dealers will [use] very powerful cleaners that can cause other problems. If products are corrosive, they can burn some materials. If the vehicle smell is nauseating, detergent-like, that's a sign."
The more mechanically astute may notice other signs, including "pink bubblegum-coloured foamy automatic transmission fluid, power steering fluid; engine oil that looks like coffee but smells rotten and sour; and A/C compressor clutch and manual transmission clutches that seize or make a lot of noise."
Article content
He suggests looking for humidity under carpeting, compartment covers, and around anchor points for seats, seatbelts and tie-downs. Voltage receptacles are another tell-tale place to look. "A vehicle that was underwater will also have mud, dirt and sand in the lowest-lying places, such as under the dashboard and in other storage compartments in minivans and SUVs. Brakes will be unusually rusty." Electronic components — windows, seats, sliding door, fans, blowers and wipers — will make noise, or not work at all. Any of these issues in tandem could suggest water damage.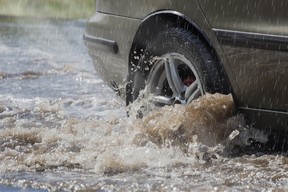 What if it's your own car you're tempted to plunge into a flooded roadway? For that, we go to Chris Muir, mechanic, professor, consultant at CAM Automotive Consulting — and avid off-roader.
Article content
"Vehicles are meant to be water-resistant, not submerged. Seals and gaskets are fantastic at keeping rain and road spray at bay, but the consistent pressure from immersion — or even pressurized spray — can overwhelm the water management systems," he says. Electronic control modules aren't meant to be dunked, and will quit working. But Muir notes the long-term effects. "Most interior electrical connectors don't have weather protection, so they become a foothold for corrosion. They may dry out, but once saturated, the damage has begun. The harness could become a recurring problem because of the water intrusion."
When faced with a flooded Don Valley Parkway or a flash-flood of unknown depth across an intersection, keep in mind what he did after thrashing through similar high-water scenarios off-road, on purpose:
Article content
"I would come back and spend two or three hours draining fluids and cleaning bearings. Those seals aren't intended to keep out that kind of pressure. All the mechanical goodies that make a car move will take on water, to varying effect."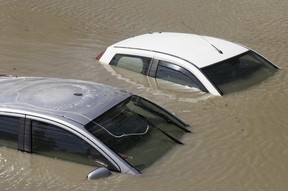 For manual transmissions, "it can cause rust on bearing surfaces and gears. In more complex systems like automatics, it can cause corrosion, strip clutch material, destroy oiled mating surfaces, and take out fluid pumps. Some of the effects take days, weeks, or even months to be noticed."
He notes in your electric vehicle, the battery case is designed to keep water out and should isolate the battery cells and spare you a 400-volt shock.
"No flooded vehicle is a place to stay, however, and whether ICE or EV, neither is intended to ford water above the axles. Cars and trucks with intakes and electronics mounted down low shouldn't go through more than a puddle in reality. Even if you have a big pickup, fording flooded areas is a dumb idea. Currents can overwhelm the vehicle and sweep it away, or hidden hazards can swallow up or damage a vehicle."
It's statistically unlikely you'll be offered a flood-damaged vehicle in Canada, but stick to registered dealers to lessen the risk and maintain some recourse. Watch for tell-tale signs in the coming months, and keep your own ride from becoming a casualty.
Every expert will end with the same advice: if the deal is too good to be true, you have your answer.
Denial of responsibility!
Pedfire is an automatic aggregator of the all world's media. In each content, the hyperlink to the primary source is specified. All trademarks belong to their rightful owners, all materials to their authors. If you are the owner of the content and do not want us to publish your materials, please contact us by email –
[email protected]
. The content will be deleted within 24 hours.