I have three kids, with two of them being massive Paw Patrol fans. I'm talking Halloween costumes, multiple stuffed animals, table mats, stickers stuck to my dryer and dishwasher — the works. My son and younger daughter are obsessed with the pups from Adventure Bay, and so when I received an invite to an early screening of Paw Patrol: The Mighty Movie, I knew I had no real choice other than to bring them along.
Though I had a feeling this was going to be a unique experience, I had no idea this would turn into one of the most chaotic and unforgettable moviegoing adventures of the year, and perhaps recent memory. From the car ride to the theater to watching a movie with dozens of Paw Patrol fanatics and their parents to a random standing ovation  that broke out at the new family-friendly movie, this was a trip. Let me tell you about it…
I've Never Felt More Like A Parent Than I Did On The Drive To The Theater With My Kids
My grand experience began before my son, daughter, and I even got to the theater to watch Paw Patrol: The Mighty Movie. In fact, it started about an hour before the scheduled start time when I had to wrestle my daughter to put on her shoes and convince my son that the giant skeleton Halloween decoration (his name is Skully, by the way) couldn't come with us. 
Once we were in the car, it was like every trope in a road trip movie at once: "Are we there yet?" "How much longer?" and "He's touching my side" were just a few of the cries coming from the backseat of my car as we made our way down the highway. No matter how many times I tried to distract them by talking about the movie, what kind of snacks they wanted, and lunch plans, I couldn't get through to them. But a couple loud sighs and stuffed animals thrown back and forth later, we finally made it to the theater.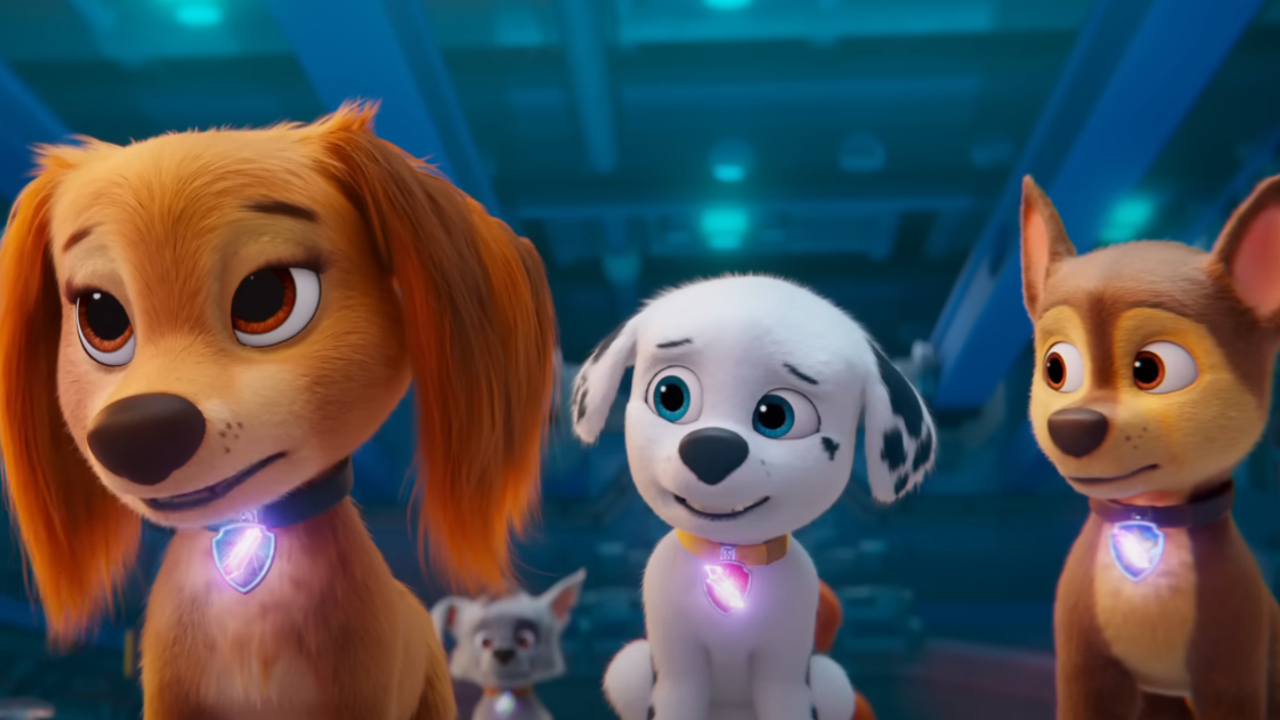 Theater Etiquette And Other Unwritten Rules Of The Moviegoing Experience Were Quickly Thrown Out The Window
The movie theater is like the one place where I'm a stickler for the rules, but I knew that I was going to have to be patient and open to new experiences seeing an animated movie with a bunch of kids hopped up on sugar at 11 in the morning. And those normal moviegoing behaviors of being quiet, putting your phone away, and sitting in your seat were very quickly thrown out the window. The lights hadn't even gone dim before madness and chaos filled the auditorium.
A kid playing games on a tablet, a small group of them running around, and a symphony of reclining chairs going back and forth were the pre-movie entertainment this fateful morning. My own kids, chowing down on Skittles and popcorn that they then washed down with a Pepsi, were right there with them. But none of the parents were mad, not even me, because everyone seemed to be having one heck of a time.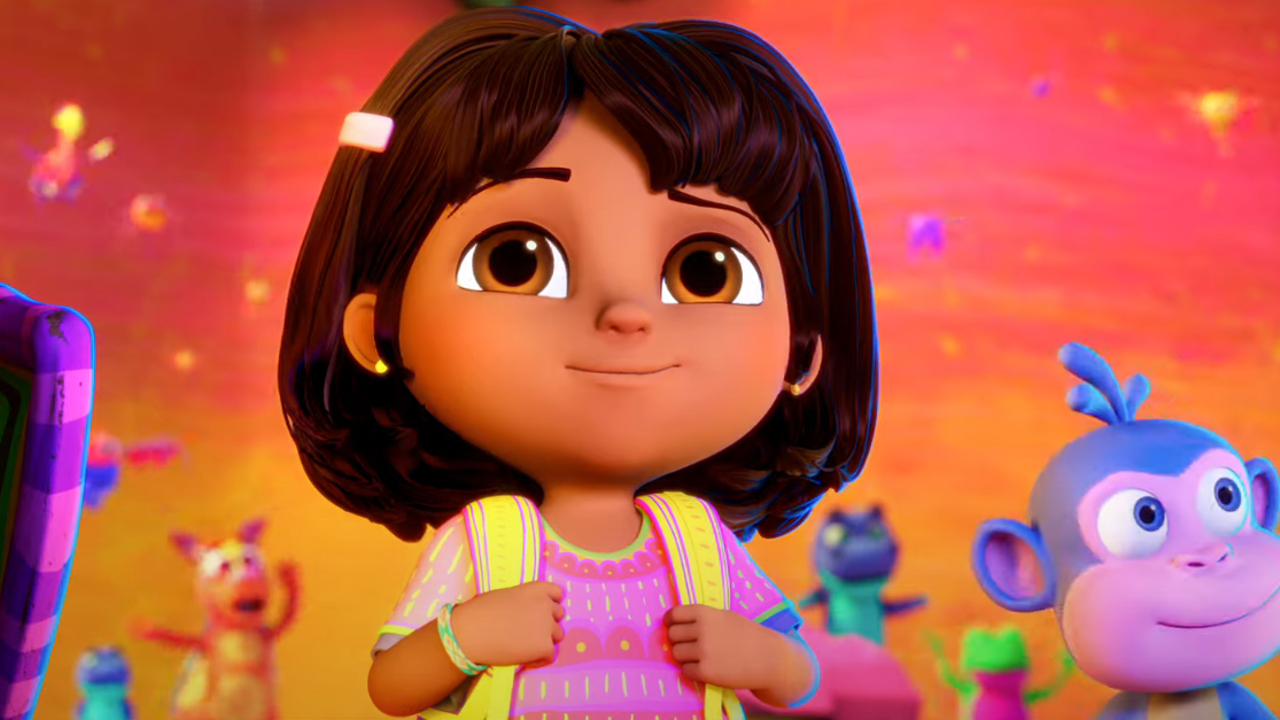 There Was A Dora The Explorer Animated Short, And Let Me Tell You, It Was A HIT
One of the best things about seeing Pixar's library of movies in the theater is the delightful animated short that typically runs before the feature. Disney and other studios do this as well. And the same can be said for Paramount Pictures, which gave us a new Dora the Explorer interactive film before the feature presentation began. As someone who is familiar with the Nick Jr. show but was born about a decade too late to really enjoy it, I was having a blast with Dora and the Fantastical Creatures. 
It had all the touchstones of the series and gave the audience plenty of opportunities to help the fearless explorer and her trusty sidekick, Boots, as they try to stop Swiper and save the day. All the kids were yelling at the screen to help Dora in her quest, and the older members of the audience got in on the fun as well. Who would have known yelling and laughing and stomping in a theater could be so much fun?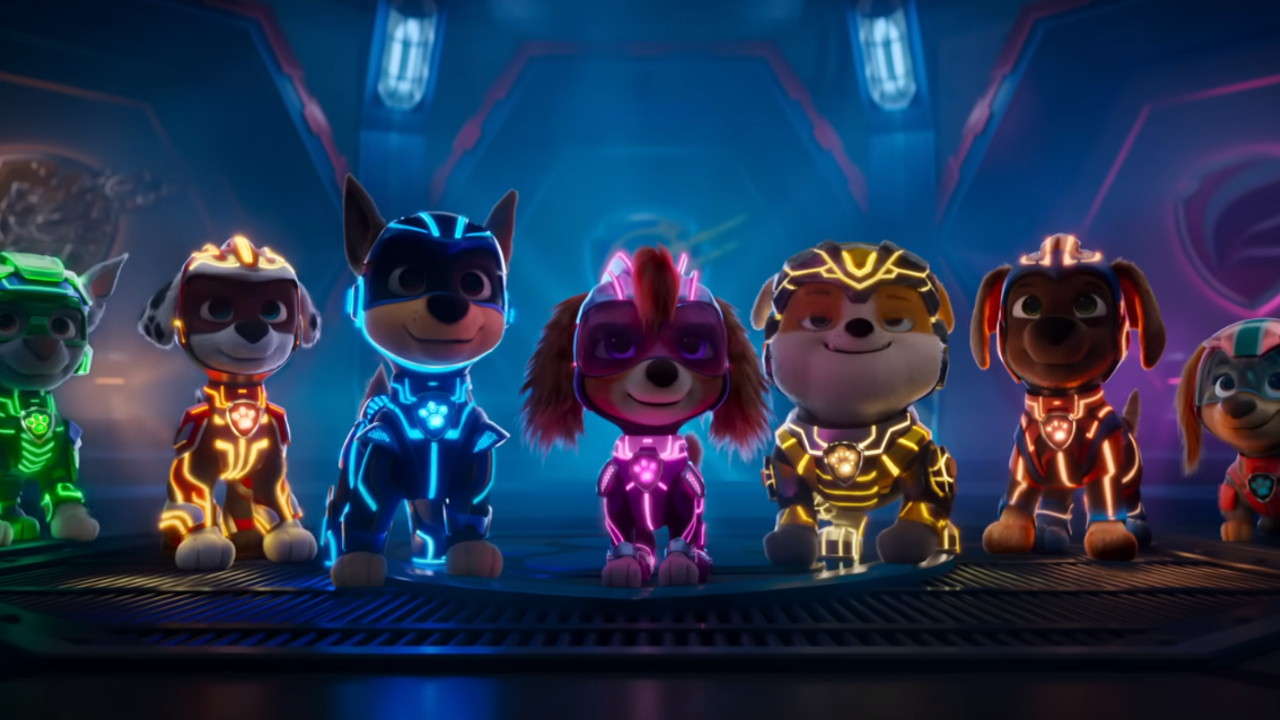 Pretty Much Every Kid (My Two Included) Went Through Their Candy And Soda Before The Paw Patrol Got Their Powers
This isn't really spoiling anything about Paw Patrol: The Mighty Movie because it's all over the film's official trailer, but those friendly pups get some superpowers after a meteor crashes into Adventure City about 15 minutes into the movie. Pretty much every kid around me, including my own, were also supercharged at this point, but instead of an asteroid as the source of their powers, it was all the candy and soda running through their little veins.
Seriously, my 6-year-old son and 3-year-old daughter were going through the sugary sweets quicker than ever before, and I just sat there in awe at the spectacle that was unfolding before my eyes. Around this time, the chattiness of the movie theater turned to full-on loud outbursts and demands for more candy, a second (or third) bathroom break, and pure madness.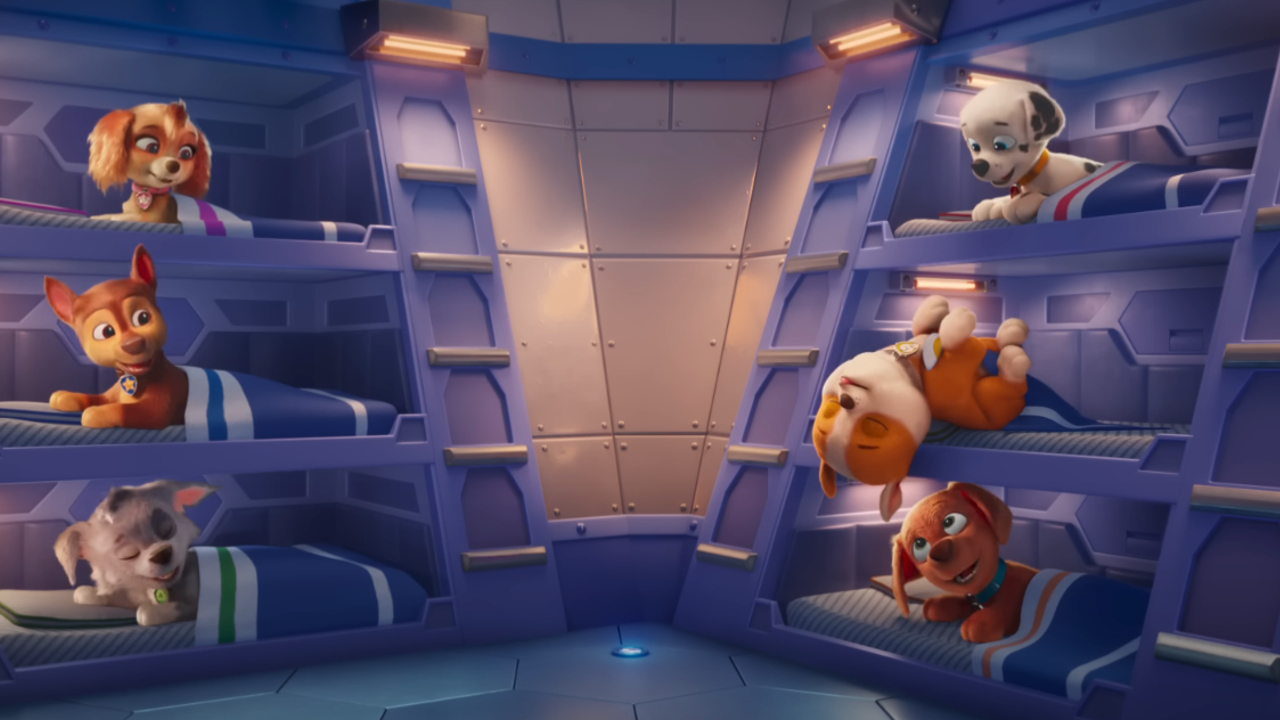 There Was A Point About Halfway Through The Movie Where Every Kid Went Through A Sugar Crash Simultaneously
For every rise there is a fall, especially when it comes to a theater of kids hopped up on sweets. There was a moment in the second half of Paw Patrol: The Mighty Movie where the all the kids, who were rambunctious just minutes earlier, came crashing down. They weren't screaming or demanding to leave or anything like that, but you could definitely feel the room turn at the start of the third act. 
It was wild to experience something like this, and it felt like we were at the end of some spiritual ceremony deep in the Amazon rain forest. Over time, the fog wore off and you could hear the sounds of empty candy bags rustling around and the scrape of straws in long-emptied drinks. It was peaceful… for a short time.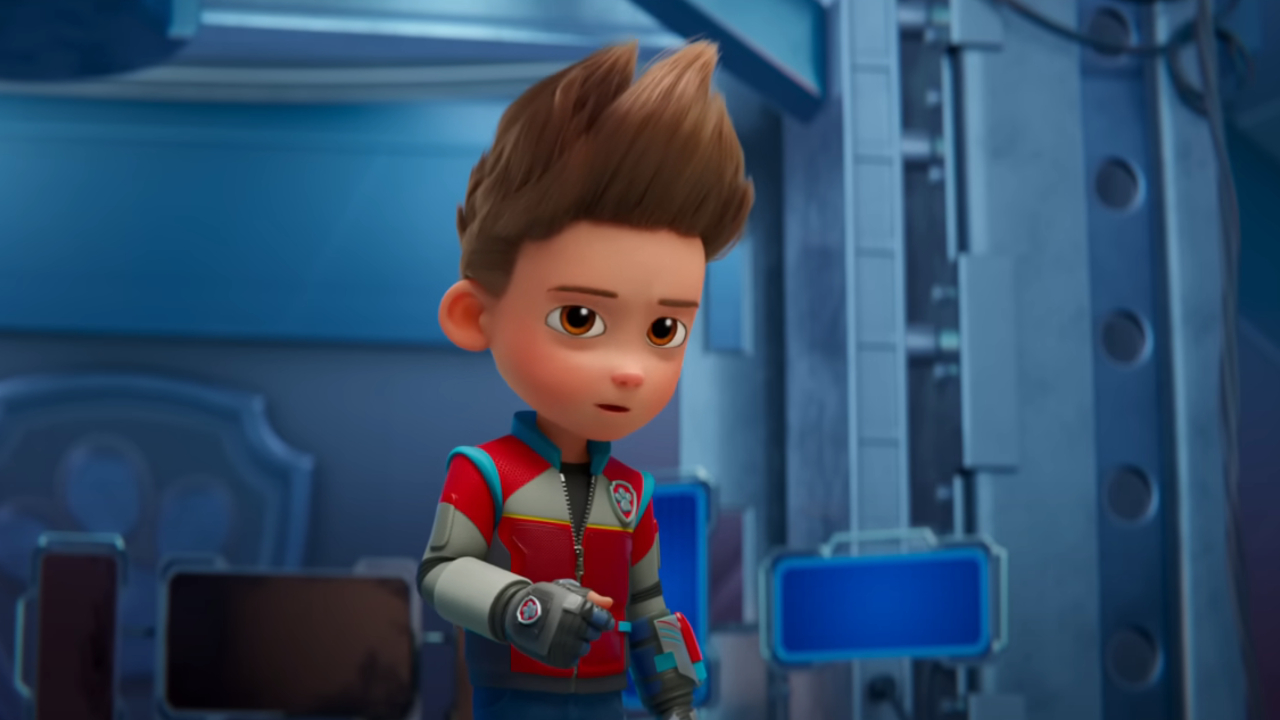 A Group Of Kids Started A Standing Ovation At The End Of The Movie, And It's Honestly The Best Thing I've Experienced All Year
I've been to a lot of movies over the years. Like, a lot. But in all my days of going to movies with my parents, with friends, or for work, I've never experienced a full-blown standing ovation. But that all changed with Paw Patrol: The Mighty Movie, specifically during the final moments when all these kids stood up and started clapping. Call it the applause ap-plague because it spread throughout the audience, and even took some adults along with it.
I felt like I was at Cannes or Venice or any other film festival known for extensive periods of applause like Brendan Fraser's six-minute standing ovation for The Whale. My kids, not wanting to miss out on the fun, stood up and joined the ranks of clapping over-stimulated children before it was all said and done.  
Overall, watching Paw Patrol: The Mighty Movie in a packed theater with my kids and several dozen other children and their parents was probably the best way to see the movie, and I'll forever look back fondly on that wild, crazy, and unforgettable experience.
Gregory Daniels is your guide to the latest trends, viral sensations, and internet phenomena. With a finger on the pulse of digital culture, he explores what's trending across social media and pop culture. Gregory enjoys staying ahead of the curve and sharing emerging trends with his readers.