Is the sequin perhaps the most glamorous product of evolutionary biology? Psychologists say humans are drawn to things that sparkle because once our ancestors searched for light reflecting on rivers in their search for water. Now we search for sparkle elsewhere – a diamond ring, a disco ball – and find new meaning in it beyond survival. Like glamour, or value, or – in the case of Ashish Gupta, a fashion designer renowned for his artistry with sequins – freedom.
This month sees Ashish's first retrospective, showcasing 20 years of his label's hand-embroidered sequined clothes, like the dressing gown in zardozi, a south Asian embroidery method using gold thread, and the pink T-shirt with the slogan "Fall in love and be more tender", and sparkling pieces worn by stars such as Beyoncé, Rihanna and Debbie Harry. Walking into his London home feels like stepping backstage – he's replaced his front-door panels with red glass, so we stand bathed for a calm minute in dark light. He designed the kitchen countertops to house huge planters, and lush trees grow up towards the glass roof. There are stone busts, Indian glass paintings and piles of books, but not a single sequin. They're all, presumably, on the work currently being hung at the William Morris Gallery in east London. "The curator said," Gupta grins, "'This is really interesting for me, because it's the first time I've ever worked with a living artist.' And I said, 'Well, we've still got three months, you never know what might happen!'" Revisiting his archive at the age of 47 has been a strange experience, "a little bit surreal, actually. You kind of time travel. In some ways it feels as if a lifetime has gone by quite quickly."
He never planned to start a label. Growing up in Delhi, Gupta papered his walls with the pages from fashion magazines, and moved to London to study at Central Saint Martins. When he graduated in 2000, he was invited to Paris for interviews at design studios, but while at the Gare du Nord his portfolio, containing all his work (along with his cash and papers) was stolen. He had nothing to show for all his years of study and no chance of getting a job.
"It was devastating! One of the most horribly gut wrenching experiences of my life. The police thought it was funny. They told me to check the bins around the station." It was soon after that, though, that he got a call. A friend had worn one of his embroidered tops out shopping, and a buyer at Browns asked where she'd bought it. They wanted to put in an order. He went back to India, produced a small collection, big on glamour and (to cut a long story) Ashish, the label, was born.
But, "In the early 2000s the world was a very different place, in terms of just being a brown person in fashion. I don't think people expected that I would be around for very long." He struggled for years to get UK citizenship, which added a particularly pointed pressure to his work, and when he started doing shows he found himself stereotyped. "I'd get called things like, 'Bollywood designer', or 'Hindu designer', which I didn't quite understand the relevance of. I wanted to be judged on what I was doing, not my identity."
Recently though, he has started to lean into his heritage. "I'm Indian, I have my own gaze, which comes from my sense of having grown up in a particular country, so there are references that I react to differently. The way I use colour, for example, things that are so deeply rooted. Everything you do is through your gaze, your lived experience – the fact that you're an immigrant or a queer person." He feels more comfortable exploring that today, through "the idea of dual culture dressing. Like, I remember Indira Gandhi, when she travelled abroad, would do the silk sari, but then she'd have a fur coat on top. This interesting clash of east and west. And in queues at Heathrow you'll see Indian women wearing a sari with a big cardigan and trainers. So I've been exploring a lot of that in my work, which becomes kind of political. Because it's about dress codes and how people react, what messaging you're sending."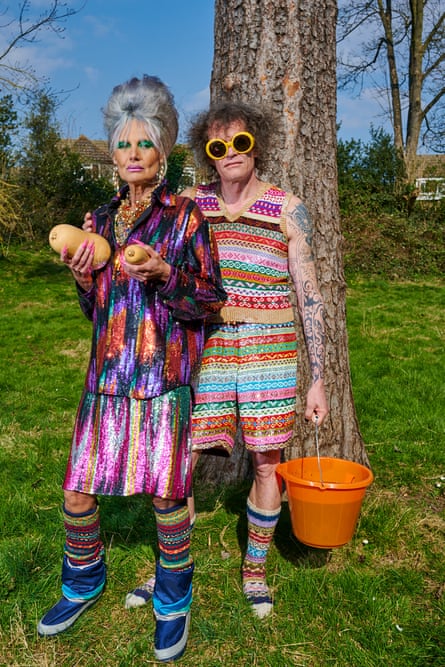 Last year, Gupta shot a collection in India for the first time, clothes inspired by such things as Indian movie magazines and the velour bedspreads his family bought in the 1970s. There were geeky knit tanktops alongside 50s style prom dresses, all hoisted to new levels of glamour with their dense embroidered sequins.
In 2016, baffled and upset by Brexit, Gupta took a bow at the end of his London show in a T-shirt that read "Immigrant". It was an attempt to reclaim the word, to show pride and to seek compassion. It sold out instantly. "The older I get, the more I think about the political situation and its structures. This constant dialogue, for example, about immigration really upsets me. It's completely insensitive. It's almost as if people don't understand the traumas immigrants go through. And even if you look at the vocabulary around it – when people from the west move to countries in the so-called 'developing world', they call themselves expats. The word immigrant becomes reserved for people of colour who move to predominantly white countries, which I find really interesting, because I have yet to find the difference between the two."
It's a subject that disturbs and distracts him. He hopes that art and fashion remain a voice of dissent, but (he admits, shuffling in his seat), he remains worried. "I emigrated here to build a life and I don't see myself as different from other people. But, obviously, I am seen as different by some people. When Brexit happened it was so sad, because there's a whole generation of young people now who will be deprived of so many experiences, it's such a shame, isn't it? When you think about food and fashion and just falling in love… it's such a shame. Why would you not want that?" This government, he adds, "instead of trying to fix real problems – energy prices, the environment, trading with Europe, which from recent personal experience I can say continues to be an absolute clusterfuck, is trying to deflect by blaming refugees. It would be laughable if it wasn't so cruel and tragic. Privileged people who have such a lack of humanity and empathy should not be in these positions of power."
When he wore the T-shirt, "I felt like I was coming out as an immigrant," Gupta chuckles. But the subject creeps into his work in less obvious ways, too. Growing up in Delhi, homosexuality was illegal and he dreamed of moving to New York, or Paris, or London, "a world of escapism and fabulousness. Sequins remind me of that, of big cities at night. Because cities have always been such a refuge for people, or communities, who have felt not the norm. For gay men, moving from small towns, a city's nightlife becomes a kind of refuge. Using sequins reminds me of that idea, of not being hidden."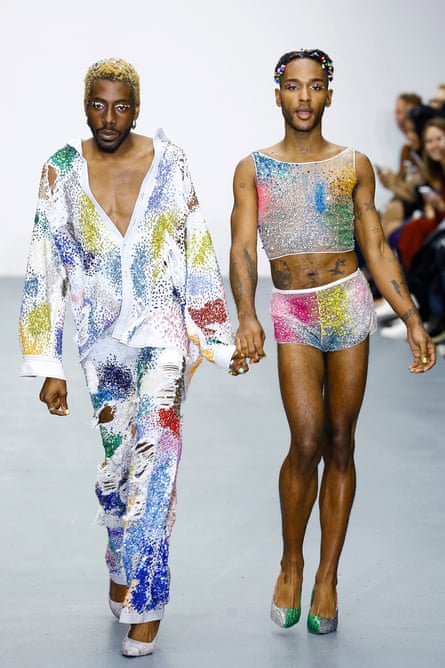 The clothes Gupta designs use sequins to disrupt and deceive the eye, with trompe l'oeil effects and unexpected references. The draw of the sparkle feels primal – that ancient search for water – but in his 20 years working with sequins, making his own fabrics, hand-embroidering them (they're the opposite of fast or throwaway fashion – a typical dress costs about £2,000), working out how best to help them catch the light, Gupta has had time to go deeper. "Part of my attraction to sequins is that collision of high and low taste. When I started designing, they really had this dodgy cocktail dress kind of association. I love a bit of bad taste, so that was part of it." He strokes his beard as he thinks. "The other thing is this idea of glamour. The word comes from the idea of witches casting a spell. So it's a very powerful association. And I think about the golden age of Hollywood and how sequins look on film. There's such a magical quality about them. Plus, the danger and beauty I associate with nightlife – you want to be seen, but there's a mystery there. They light you up," he shakes his head, a kind of casual wonder. "It's a very magical medium." Today, he's wearing an orange shirt in a muted psychedelic pattern. Does he ever wear a sequin? "No. I like to have a little bit of distance. They feel like… I don't want to say 'sacred'? But I suppose I like to be on the outside looking in." He looks a little sheepish.
Pulling old work out for the retrospective, Gupta was pleasantly surprised to find… it was fabulous? Like the earliest piece, from 2003: "It's like the campest rugby shirt in the world," in gold and silver stripes, which came from, "the idea of taking something hyper masculine, fetishising and subverting it." And the bags, where he reimagined supermarket plastic bags in sequins – instead of Tesco, the letters spelled Disco. Instead of M&S, S&M. "They had a gentle humour about them. But also it was that idea of taking something disposable from everyday life and making it really special, elevating it." He shrugs. "It's a really nice thing, to be able to create joy. I'm grateful for that."
In the past, Gupta has booked holidays – flights, hotels, packed a suitcase, but found himself unable to leave for the airport. "I don't think I've had longer than four days off in a row in the past 20 years," he winces. "Running a small fashion business is hard and it's really difficult to disengage. But there are so many more things I'd like to do!" He'd like to take more pictures, for instance. He'd like to do gardening, he'd like to design more interiors and "I'd like to write a book about sex." Oh yes? He has so many stories, he says. And it's a subject he's close to because, "Often we dress up to get undressed. So when I design a dress I'll think about how easy it is to get off – I always put zips. And I love pockets. I once lent a trenchcoat to [redacted A-list celebrity] and when I got it back, there was a pair of knickers in the pocket. I thought, well, she's had a great time!" The ultimate compliment.
When he says trenchcoat, of course, it's important to realise what he means is something more like a sculpture in the shape of a trenchcoat, but made painstakingly by hand, of discos and cotton. When we talk about politics, about that doomful year of Brexit and Trump, he remembers being at a rally and seeing a gold sparkling sign that said, 'Fighting Gloom With Glitter!' "I was very inspired by that," he says. "And – sequins are a kind of protest in themselves, aren't they?" A protest against what? He thinks. "A protest against fucking blandness!"
Ashish: Fall in Love and Be More Tender, is at the William Morris Gallery, Forest Road, London E17 4PP (wmgallery.org.uk) from 1 April to 10 September 2023
Denial of responsibility!
Pedfire is an automatic aggregator of the all world's media. In each content, the hyperlink to the primary source is specified. All trademarks belong to their rightful owners, all materials to their authors. If you are the owner of the content and do not want us to publish your materials, please contact us by email –
[email protected]
. The content will be deleted within 24 hours.