Charles Oliveira was within touching distance of righting the wrong of his prior loss to Islam Makhachev. The two men had crossed swords last year at UFC 280, during which the Brazilian was handed a lopsided defeat. But after dispatching Beneil Dariush at UFC 289, Oliveira earned himself a shot at redemption.
Unfortunately, a cut sustained during a fifth round of sparring led to the Brazilian's shocking withdrawal from the scheduled bout, which was set to take place at UFC 294. The revelation has left many of 'Do Bronx's fans disheartened, as they hoped to see Oliveira regain the title.
Fortunately, the UFC 294 main event was not in jeopardy for too long, as reigning UFC featherweight champion Alexander Volkanovski has agreed to step in on short notice in a rematch of his own with Islam Makhachev. While reacting to the situation, ex-UFC fighter Nate Diaz took aim at Charles Oliveira.
However, his attempts to attack the former lightweight kingpin backfired, as fans flocked to the Instagram comment section of the post to voice their support for Oliveira. One fan pointed out that Diaz ought to keep his words to himself, given that he recently lost to Jake Paul:
"Nate lost to Jake Paul"
This sentiment was echoed by another fan, who added further fuel to the fire by mentioning Paul's past as a Disney actor:
"Better than CTE from a Disney star"
Meanwhile, other fans were simply outraged that he would dare take aim at Oliveira, saying:
"How dare he slander Charles"
Another fan alluded to Diaz suffering from the consequences of repeat brain trauma:
"Better than a brain injury, homeboy."
A collage of fan reactions can be seen below: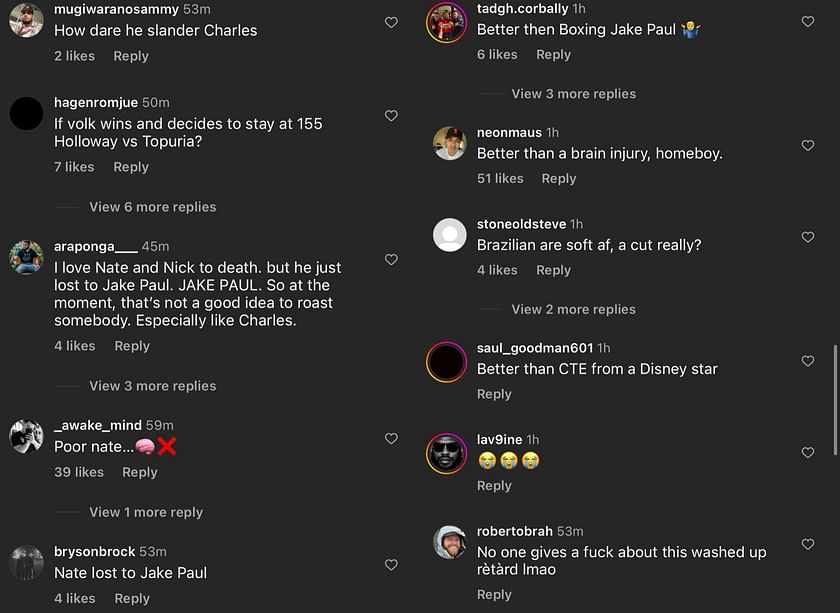 ---
Who did Charles Oliveira beat during his short title lightweight title reign?
Charles Oliveira first captured divisional gold in a thrilling bout against Michael Chandler, scoring a come-from-behind knockout. He subsequently defied the odds by shutting down all talk of Dustin Poirier being the uncrowned champion by submitting him in round three of another action-packed clash.
Unfortunately, his UFC 274 matchup with Justin Gaethje was marred by his controversial weigh-in failure, which led to him being stripped of the lightweight title and being ineligible to win it against Gaethje. Nevertheless, Oliveira submitted him within a round, before facing and losing to Islam Makhachev for the vacant belt.
Gregory Daniels is your guide to the latest trends, viral sensations, and internet phenomena. With a finger on the pulse of digital culture, he explores what's trending across social media and pop culture. Gregory enjoys staying ahead of the curve and sharing emerging trends with his readers.