Hi, and welcome to another edition of Prep Rally. My name is Eric Sondheimer. The high school baseball season begins on Monday. There's some great teams for 2023, none better than JSerra, which has 20 college commitments in its program. It's time for a preseason top 25 and profile of the best power hitter, Ralphy Velazquez of Huntington Beach, who hit a home run on Sunday at Dodger Stadium during a showcase event.
Hitting the long ball
Ralphy Velazquez loves his mom. When she tells him to do something, he tries not to disappoint. So when Nicole Velazquez spoke to him as he was in the on-deck circle in the eighth inning of a scoreless game in last year's Southern California regional baseball final at San Juan Capistrano JSerra, she really wanted a favor.
"She was like, 'You got to end this game,' " he said.
Velazquez likes pressure, but his mom wants a home run. What's a teenager supposed to do?
He delivered a two-run home run to give Huntington Beach a 2-0 victory. His mom was so happy he probably didn't have to take out the trash for a week.
"I live for those big moments," he said.
When the baseball season begins on Saturday, Velazquez could be the high school version of Aaron Judge. Entering his senior year, the 6-foot-3, 215-pound catcher/first baseman has hit 17 home runs without really trying to hit home runs.
Here's a profile of Velazquez.
JSerra is No. 1
It wasn't too difficult figuring out the preseason No. 1 high school baseball team. Defending Southern Section Division 1 champion JSerra gets the target on its back, and the Lions are armed with pitching depth, terrific defense and veteran hitters.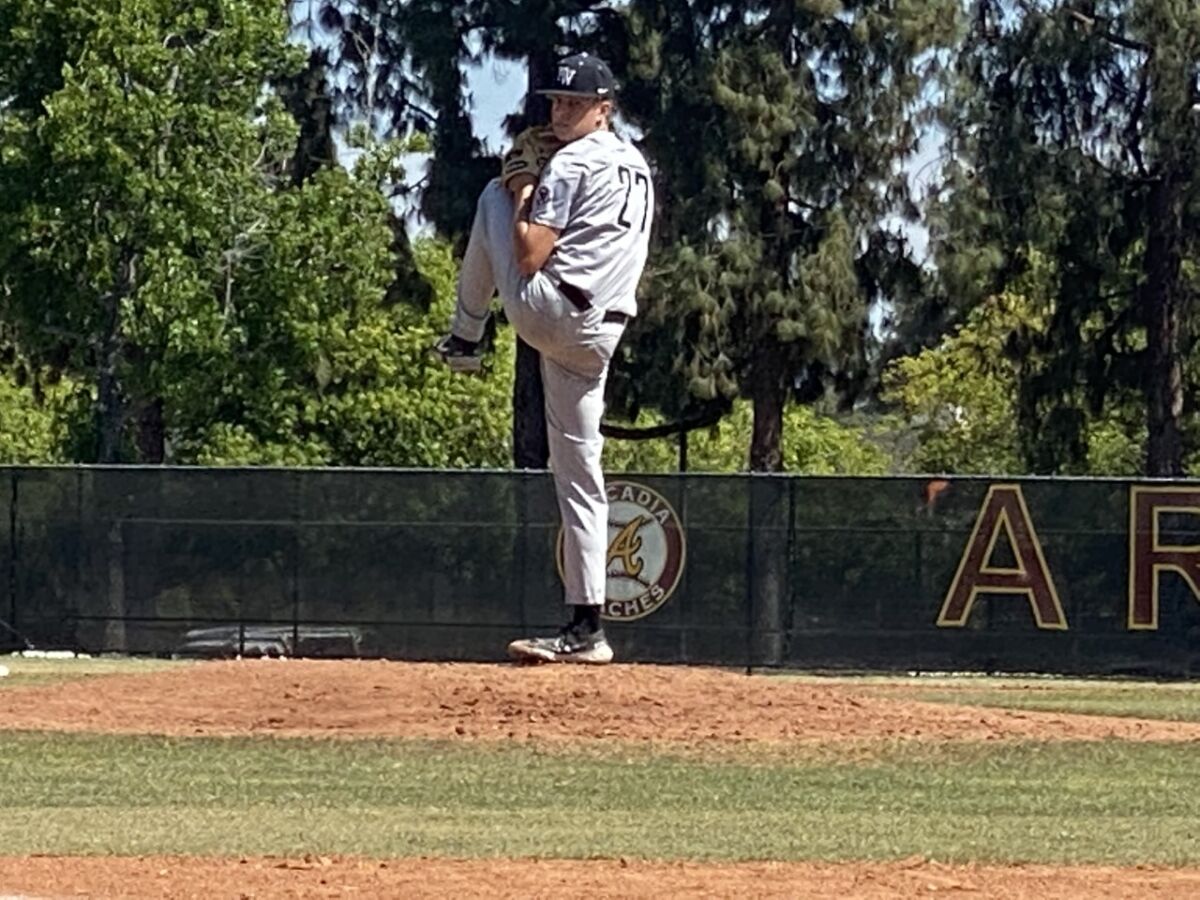 No. 2 Harvard-Westlake gets back junior Bryce Rainer on the mound. He was 9-0 as a freshman, then didn't pitch as a sophomore. Combining Rainer with Tommy Bridges and Duncan Marsten, a Stanford commit who's finally healthy after two years of injuries, gives the Wolverines one of the best trio of pitchers anywhere.
Here's a look at the complete top 25.
Best of the best
Baseball is probably the one sport in Southern California that produces the most future pro players. Let me offer a preseason all-star team featuring the best of the best. Some players are placed in position to get the best nine players on the field.
Pitcher: Bryce Rainer, Harvard-Westlake, Jr.
1B: Luke Lavin, Santa Margarita, Sr.
2B: Gavin Grahovac, Villa Park, Sr.
3B: Eric Bitoni, Aquinas, Sr.
SS: Jonathan Mendez, JSerra, Sr.
OF: Will Gasparino, Harvard-Westlake, Sr.
OF: Derek Curiel, Orange Lutheran, Jr.
OF: Grant Gray, Norco, Sr.
Basketball playoffs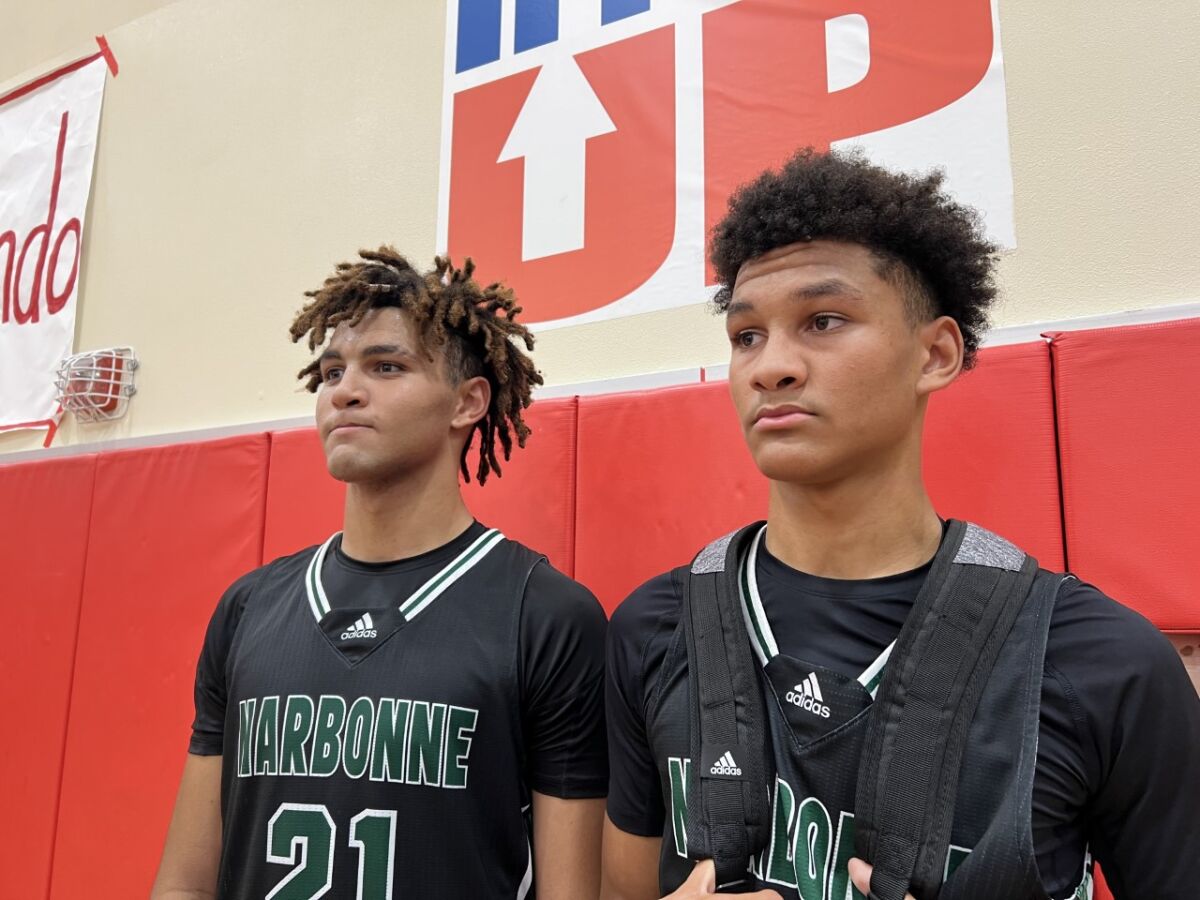 The City Section basketball playoffs begin this week with some interesting happenings. Westchester is missing its boys and girls coaches who are under suspension and Washington Prep opted out of participating in the boys playoffs for undisclosed reasons.
Narbonne received the No. 1 seed for an eight-team Open Division boys' playoff that is considered pretty wide open. Granada Hills is No. 1 in the girls but figures to face strong competition from No. 2 Westchester and No. 3 Crenshaw. Here's the link to pairings.
Harvard-Westlake has been ranked No. 1 in every coaches' poll since Jan. 9, but the seeding committee for the Southern Section made two-time defending champion Corona Centennial No. 1 seed its eight-team Open Division tournament that gets under way on Friday with two four-team pools. The opening game certainly should sell out Centennial's gym: Sierra Canyon at Centennial. Bronny James vs. Jared McCain.
Here's the rundown.
Here's a look at last week's Mission League tournament finale won by Harvard-Westlake. King/Drew won the Coliseum League title in a thriller over Crenshaw. Here's the report.
For girls basketball, unbeaten Sierra Canyon remains the team to beat, No. 1 in Southern California, No. 1 in the state and maybe No. 1 in the nation. Etiwanda, with two losses to national opponents, hopes to meet the Trailblazers on Feb. 25 at the Honda Center.
Here's the link to boys and girls basketball pairings for the Southern Section.
Soccer, water polo playoffs
JSerra was given the No. 1 seed for the Southern Section Division 1 boys' soccer playoffs that begin Thursday. Corona Santiago is No. 1 for Division 1 girls that begin Wednesday. Here's the link to complete pairings. The City Section will release its pairings Monday.
In girls' water polo, Foothill received the No. 1 seed for the eight-team Southern Section Open Division playoffs that begin Thursday. Long Beach Wilson is No. 1 in Division 1 girls and has a bye Wednesday. Here's the link to complete pairings.
Corona del Mar drew Foothill in the opener. Here's a story looking at Corona del Mar's season.
Marcus Adams Jr. unleashed
Jumping up and down while waving his arms in excitement, Marcus Adams Jr. is standing in the bleachers at Manhattan Beach Mira Costa High rooting for a Palos Verdes Peninsula basketball player finally seeing action at the end of a rout. The smile on Adams' face is proof of how much fun he's having as he supports a friend from his middle school days.
It shows what others keep saying about Adams — he's a good kid. And there's much more.
Of all the teenagers playing high school basketball in California this season, the most likely to make it to the NBA one day is Adams, a 6-foot-8 senior at Harbor City Narbonne. He's averaging 30 points a game for the No. 1 seed for the City Section Open Division playoffs.
"He's a kid in a man's body" is how Narbonne coach Kumase Demesma describes him.
Here's a profile of Adams.
Tom Hofman milestone
La Cañada coach Tom Hofman celebrated his 800th coaching victory last week with a win over Temple City. His team also won its 10th consecutive Rio Hondo League title.
Hofman has been one of the most consistent, respected coaches for a long time. His passing game offense is admired. He has developed players and teams with mostly neighborhood kids.
Another milestone happened for Taft coach Derrick Taylor, who picked up victory No. 500. Redondo Beach coach Reggie Morris Jr. earned victory No. 400.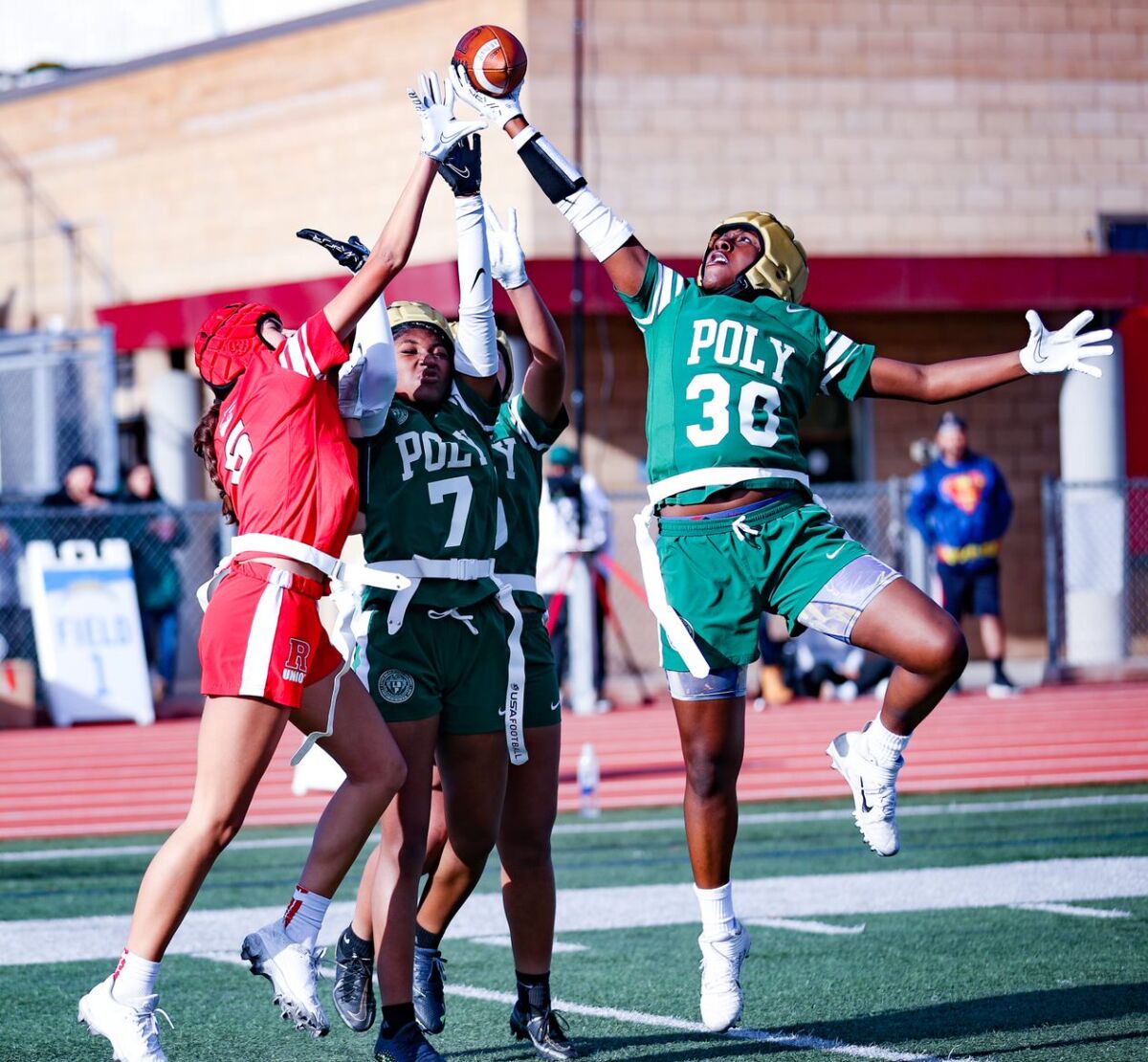 Girls' flag football was officially approved as a CIF sport beginning this fall. Schools will have the option of creating teams. Sections can hold their own championships.
Here's a report on questions that need to be answered as the sport begins competition.
Alleged rule violations
There were allegations made of CIF rule violations this week involving basketball and football.
First the Southern Section announced it was placing Riverside Poly boys' basketball on one year probation and banning the team from participation in the playoffs for this season after the Riverside Unified School District uncovered multiple rules violations in an investigation.
Here's the report.
Then there was St. Francis filing a report with the Southern Section alleging that one of its football players was being recruited by a man trying to direct the player to Mission Hills Alemany. The contact was made through social media, a growing problem in high school sports.
Here's the report.
Softball
The Mission League held a media day for softball teams, and one of the most interesting matchups will have Louisville taking on Sherman Oaks Notre Dame. Hayden Luderer is a standout player for Louisville and her father, Brian, is now helping coach at Notre Dame.
So what's the bet going to be between daughter and father?
"There's no bets," Hayden said. "But I'm definitely going to rub it in his face when we do win."
Notes …
Leo Young of Newbury Park was selected the state Gatorade player of the year for boys' cross country. His brother, Nico, won the same award in 2019-20. . . .
Sophomore Sadie Englehardt of Ventura won the Junior Girls' International Mile in 4:40.59 at the New Balance Grand Prix in Boston. . . .
Senior pitcher Jordan Cole of Orange Lutheran has committed to Pepperdine. . . .
Jacob Ochoa has resigned as football coach at Glendale and will become an assistant at Maranatha. . . .
Santa Margarita track and cross-country runner Eddie Yunker has committed to Nevada. . . .
Standout running back Delon Thompson of St. Bonaventure committed to Portland State. . . .
Garrett Branske is the new softball coach at La Salle. . . .
Justin Wyatt is the new football coach at Palmdale Highland. . . .
Tyler Perri is the new football coach at Alta Loma. He's a former assistant at Charter Oak. . . .
Gary Wright is the new football coach at Loara, where he served as an assistant. . . .
Juniors Trent Perry of Harvard-Westlake and Sebastian Rancik of JSerra have picked up scholarship offers in basketball from UCLA.
At the California Winter Track championships at Arcadia, junior Xai Ricks of Long Beach Poly set a national junior class 600-meter record, running 1:16.13. . . .
Kevin Patton Jr. from Rancho Christian has committed to San Diego and Steve Lavin for basketball.
From the archives: Don MacLean
Don MacLean was the best basketball player to come out of Simi Valley High, an All-American who'd go on to become the all-time scoring leader for UCLA and in the Pac-12. A first-round draft pick in 1992 by the Pistons, he played in the NBA from 1992-2001.
MacLean then started a second career as a broadcaster. He's so smooth and effective commentating on games for TV, both college and the pros. He's had three sons play high school basketball, the last being Trent, who's a sophomore standout at Thousand Oaks.
Here's a 2020 story about MacLean's son, Kyle, who played for Westlake, and a 2023 story about Trent.
Recommendations
From MSN.com, the story of a 23-year-old coach caught pretending to be a 13-year-old player on basketball team.
From Ballysports.com, a story on former El Camino Real baseball star Ryan Lavarnway playing for Team Israel.
From the Los Angeles Times, a story on the childhood basketball courts that Clippers players grew up around.
Tweets you might have missed
Until next time…
Have a question, comment or something you'd like to see in a future Prep Rally newsletter? Email me at [email protected], and follow me on Twitter at @latsondheimer.
Did you get this newsletter forwarded to you? To sign up and get it in your inbox, click here.
Denial of responsibility!
Pedfire is an automatic aggregator of the all world's media. In each content, the hyperlink to the primary source is specified. All trademarks belong to their rightful owners, all materials to their authors. If you are the owner of the content and do not want us to publish your materials, please contact us by email –
[email protected]
. The content will be deleted within 24 hours.