Rory McIlroy was restrained by Shane Lowry after a heated finish to day two at Marco Simone GC, where Team Europe hold a 10.5-5.5 lead over Team USA; Watch the Sunday singles live from 9am on Sky Sports Golf, ahead of the first tee from 10.35am
By Ali Stafford in Rome
Last Updated: 01/10/23 1:12pm
New footage has emerged of Rory McIlroy's argument with Patrick Cantlay's caddie on the 18th green as Joe LaCava appeared to anger McIlroy by celebrating too closely to him while he was lining up a putt.
Rory McIlroy was involved in car park altercation with a Team USA caddie as tensions boiled over after a dramatic finish to the Saturday fourballs at the Ryder Cup.
McIlroy was one up with two to play alongside Matt Fitzpatrick at Marco Simone GC before Patrick Cantlay followed a penultimate-hole birdie by draining a 45-footer at the par-five last to snatch a dramatic 1up victory for him and Wyndham Clark.
Cantlay's big birdie sparked wild celebrations from the American team, who responded to taunts from European fans about the former FedExCup winner's lack of hat by waving their USA-branded baseball caps in the air.
Caddie Joe LaCava appeared to step across the line of a European putt as he waved his own cap in the air, with a heated debate ensuing on the 18th green after both McIlroy and Fitzpatrick missed their putts to tie the contest.
On the incident, McIlroy said: "They played a great match, and yeah, I mean, a few scenes there on 18 and just fuel for the fire tomorrow."
Tommy Fleetwood, Shane Lowry and Justin Rose were among the European players on the green during the argument, which carried on into the car park as McIlroy continue to vent his frustration at LaCava.
Justin Thomas' caddie Jim "Bones" Mackay appeared to attempt to diffuse the situation as McIlroy was pointing and shouting at someone outside the clubhouse, believed to be LaCava, with Lowry intervening to pull McIlroy away from the incident and towards a waiting car to leave the course.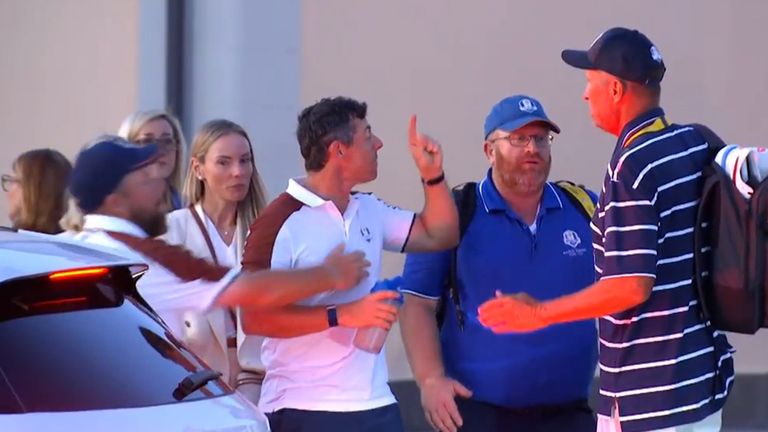 What did Cantlay and his caddie do?
Europe captain Luke Donald revealed McIlroy had felt a "line had been crossed" by LaCava as he celebrated Cantlay holing the putt that eventually reduced Team USA's deficit going into the final day.
"Obviously I was on 18 and I saw it unfold," Donald said. "When Patrick [Cantlay] made that putt, Joe [LaCava] was waving his hat – there was some hat-waving going on throughout the day from the crowd, not our players.
"I talked to Rory and he politely asked Joe to move aside as he was in his line of vision, he stood there and didn't move for a while and continued to wave the hat and I think Rory was upset about that.
"Rory [McIlroy] felt the line was crossed on the 18th green. He is a passionate player – we all are in this event – and I will speak to him later about it."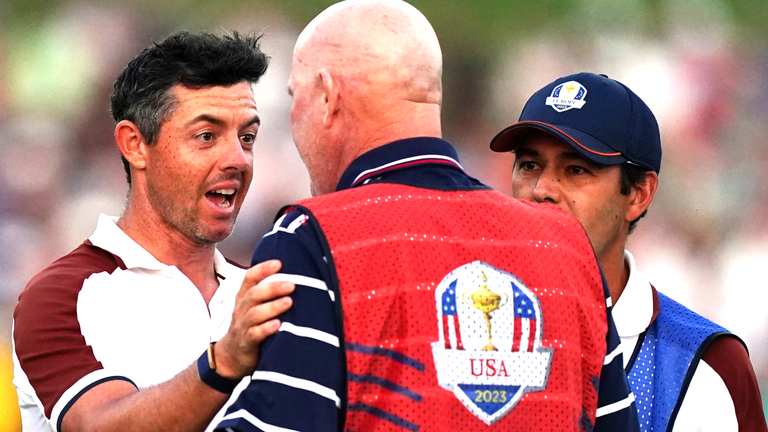 Golf Channel's Todd Lewis reported McIlroy's agent said the two incidents on the 18th green and in the car park were related, while Cantlay himself said: "I was too busy letting out all the emotion that built up over the day. I didn't get a good look at it."
What's next?
Watch the Ryder Cup exclusively live this week on Sky Sports! Live coverage of the singles begins on Sunday from 9am, ahead of the first tee time at 10.35am. Stream the Ryder Cup and more for £21 a month for six months with NOW.
Gregory Daniels is your guide to the latest trends, viral sensations, and internet phenomena. With a finger on the pulse of digital culture, he explores what's trending across social media and pop culture. Gregory enjoys staying ahead of the curve and sharing emerging trends with his readers.