Sen. Bob Menendez, D-N.J., was hit with new charges Thursday accusing him of accepting bribes from a foreign government and conspiring to act as a foreign agent, according to a superseding indictment.
The new indictment, filed by a federal grand jury in Manhattan, alleged that he "provided sensitive U.S. Government information and took other steps that secretly aided the Government of Egypt."
Menendez could face up to two years in prison for failing as a public official to register as an agent of a foreign power, according to a law cited in the superseding indictment.
In a statement Thursday, Menendez dismissed the new allegations.
"The government's latest charge flies in the face of my long record of standing up for human rights and democracy in Egypt and in challenging leaders of that country, including President [Abdel-Fattah] El-Sisi on these issues," he said.
"Piling new charge upon new charge does not make the allegations true. The facts haven't changed, only a new charge," he added. "I again ask people who know me and my record to give me the chance to present my defense and show my innocence."
Menendez and his wife, Nadine, last month pleaded not guilty to corruption charges alleging that they used his influence to pocket hundreds of thousands of dollars in bribes.
Three other defendants — New Jersey businessmen Jose Uribe, Fred Daibes and Wael Hana — also pleaded not guilty to the corruption charges last month.
Sen. John Fetterman, D-Pa., who was the first Senate Democrat to call for Menendez to resign after the initial criminal charges, said Thursday that senators should hold a vote to expel him.
"We cannot have an alleged foreign agent in the United States Senate," Fetterman said in a statement. "It is time for every one of my colleagues in the Senate to join me in expelling Senator Menendez."
Expulsion would require two-thirds of the full Senate to vote in favor of removing Menendez.
Fetterman's call was backed by Rep. Andy Kim, D-N.J., who announced after last month's charges that he was running for Menendez's seat. "Given the severity of these charges, the US Senate should vote on expulsion," Kim wrote on X.
In the indictment Thursday, federal prosecutors alleged that Menendez's wife and Hana "worked to introduce Egyptian intelligence and military officials to Menendez for the purpose of establishing and solidifying a corrupt agreement."
The new charge alleges that from 2018 to 2022, Hana, Menendez and his wife "conspired, confederated and agreed together and with each other to have a public official" — Menendez — "act as an agent of a foreign principal, to wit, the Government of Egypt and Egyptian officials."
It cites as overt acts a dinner Menendez, his now-wife and Hana had together at a restaurant in 2018 and a second dinner Menendez had with Hana and an unidentified Egyptian official in 2019.
Hana's lawyer, Larry Lustberg, mocked the charge in a statement Thursday.
"The new allegation that Wael Hana was part of a plot concocted over dinner to enlist Senator Menendez as an agent of the Egyptian Government is as absurd as it is false. As with the other charges in this indictment, Mr. Hana will vigorously defend against this baseless allegation," Lustberg said.
While additional details about Menendez's alleged conduct on behalf of the government of Egypt are included in Thursday's filing, prosecutors did not allege that the senator or his wife accepted any additional cash or gifts that weren't already included in the charges issued last month.
The superseding indictment noted that Menendez had sent two letters to the Justice Department in May 2022, including one letter to Attorney General Merrick Garland asking that they request an unnamed former member of Congress to be investigated as a foreign agent.
Prosecutors said the letters, which were posted on the Senate Foreign Relations Committee website and/or Menendez's website, included the specific statutes that prohibit Americans from working on behalf of a foreign government without registering with the Justice Department.
The indictment alleged that Menendez's wife was the one who advised Hana that she was dating the senator and that allegedly happened when Hana's outreach, in part to advance Egypt's interests, began.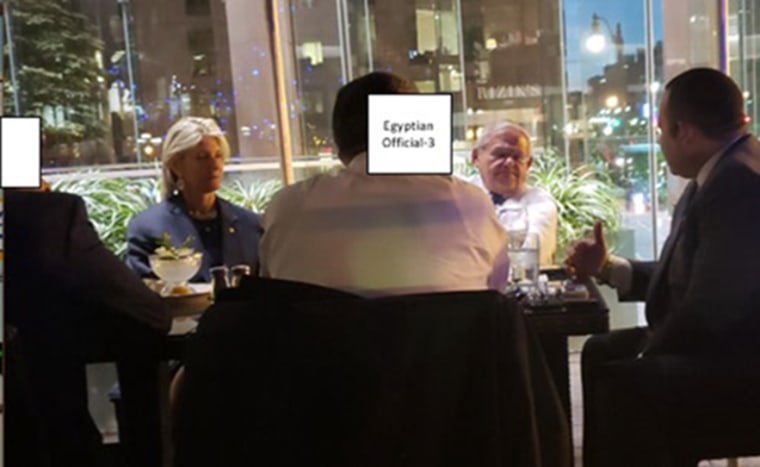 The new charges against Menendez come weeks after he and his wife were accused of accepting "hundreds of thousands of dollars" in return for the use of his influence to enrich the three New Jersey businessmen and benefit the Egyptian government.
During his time as chairman of the Senate Foreign Relations Committee, Menendez helped oversee billions of dollars in U.S. aid to Egypt. He stepped down as chair of the panel shortly after he was indicted last month.
The charges in the indictment from last month included conspiracy to commit bribery, conspiracy to commit honest services fraud and conspiracy to commit extortion under color of official right. In that indictment, prosecutors alleged that the couple received bribes, including in the form of "cash, gold bars, payments toward a home mortgage, compensation for a low-or-no-show job, a luxury vehicle and other items of value."
In addition to the federal corruption case, the FBI is investigating whether Egypt's intelligence services might have been involved in the alleged bribery scheme described in the September indictment of Menendez and his wife, sources familiar with the matter said last month.
Menendez rejected calls for his resignation from dozens of his Democratic colleagues after he was indicted on bribery charges last month.
Amid those calls, Menendez had met with his fellow Senate Democrats in a closed-door meeting. After the meeting, he told reporters: "I will continue to cast votes on behalf of the people of New Jersey as I have for 18 years. And I am sure when they need those votes, they'll be looking for it, for me to catch those votes."
Menendez has repeatedly denied wrongdoing in the case and predicted that he would ultimately be exonerated. Nadine Menendez's lawyer, David Schertler, said in a statement after the charges last month that she "denies any wrongdoing and will defend vigorously against these allegations in court."
In his first public comments on the charges, Menendez insisted all of the cash found in his Englewood Cliffs home was his.
"For 30 years, I have withdrawn thousands of dollars in cash from my personal savings account, which I have kept for emergencies and because of the history of my family facing confiscation in Cuba," he said. "These were moneys drawn from my personal savings account based on the income I have lawfully derived over those 30 years."
The federal indictment was the second Menendez has faced since he entered office as a senator in 2006. He was charged in 2015 with illegally accepting favors from a Florida eye doctor. The case ended in a mistrial after jurors failed to reach a unanimous verdict. Federal prosecutors decided against retrying him.
Menendez is the first sitting U.S. senator to face indictments on two unrelated criminal allegations, according to data compiled by the Senate Historical Office.
CORRECTION (Oct. 12, 2023, 9 p.m. ET): A photo caption in a previous version of this article misstated the state Menendez represents in the Senate. It is New Jersey, not New York.
Gregory Daniels is your guide to the latest trends, viral sensations, and internet phenomena. With a finger on the pulse of digital culture, he explores what's trending across social media and pop culture. Gregory enjoys staying ahead of the curve and sharing emerging trends with his readers.