It's been an unusually busy week in spaceflight, with the chatter restricted to rockets still on the ground. In a particularly festive update, United Launch Alliance (ULA) is gearing up for the launch of its Vulcan Centaur rocket on Christmas Eve.
Astronomers Could Soon Get Warnings When SpaceX Satellites Threaten Their View
In what should serve as a thrilling finale to the year, United Launch Alliance is gearing up for the much-anticipated launch of its Vulcan Centaur rocket, ready to light up the December skies from Cape Canaveral. While space enthusiasts eagerly await this cosmic spectacle, the week has been bustling with activity, featuring critical tests of SpaceX's Starship, Ariane 6, and significant progress with NASA's Artemis 2 mission.
A Vulcan Christmas gift
United Launch Alliance (ULA) announced plans to launch its highly anticipated Vulcan Centaur rocket on December 24 from Cape Canaveral, Florida, with the launch window extending until December 26, CNBC reported. Company CEO Tory Bruno confirmed the launch date during his appearance at the CNBC Technology Executive Council Summit on Tuesday.
It's a very Grinchy launch window, but space waits for no one. The announcement brings to mind the launch of the Webb Space Telescope on Christmas Day 2021. Vulcan's inaugural mission will carry two payloads: a commercial lunar lander developed by Astrobotic and precious cargo for Celestis—ashes of deceased individuals wanting to make space their final frontier.
ULA is currently working to build and qualify the upper stage of the rocket. These two tasks, the prepping of the fully expendable 202-foot-tall (62-meter) rocket for launch and the qualification tests, are running "in parallel," Bruno explained, with completion anticipated in November, according to CNBC.
ULA's Vulcan has faced challenges and delays over the past year, including a dramatic engine explosion during tests in March. In a related note, ULA was originally slated to launch two demonstration satellites for Amazon's Project Kuiper during its maiden voyage. However, delays with the rocket led to a change of plans, resulting in the satellites' successful launch in early October aboard ULA's trusty Atlas V rocket.
In development since 2014, Vulcan is set to replace the company's Atlas V and Delta IV rockets, both of which have been in use for the past two decades. The Vulcan Centaur rocket is ULA's next step in space transportation, aiming to provide more efficient and cost-effective launches. Its introduction is crucial, as it will determine ULA's ability to compete in an increasingly crowded space launch industry.
A full wet dress for SpaceX's Starship
SpaceX unexpectedly performed a wet dress rehearsal of its Starship megarocket on Tuesday, the company announced over X, formerly known as Twitter. The Super Heavy booster and Starship upper stage "were loaded with more than 10 million pounds of propellant today in a flight-like rehearsal ahead of launch," according to SpaceX. The fuel was subsequently drained, as this was just a test.
The Elon Musk-led company says the vehicle is ready for its second test flight, pending regulatory approval. The first flight on April 20 did not go smoothly, with the rocket inflicting damage onto the Texas launch site and the surrounding areas.
Regulatory approval may not come until next year, as the FAA needs U.S. Fish and Wildlife to assess SpaceX's Boca Chica upgrades before it can authorize the next Starship launch license. Among the 63 corrective actions mandated by the FAA is a new deluge system designed to quell the power of Starship's 33 Raptor engines at launch, prompting the FWS inquiry. Once flight ready, Starship, with its estimated 17 million pounds of thrust, will be the most powerful operational rocket in the world.
Ariane 6 also gets a wet dress
On Tuesday, at Europe's Spaceport in Kourou, French Guiana, a full-scale wet dress rehearsal for the new Ariane 6 rocket was conducted by a collaborative team from CNES (the French national space agency), ESA, Arianespace, and ArianeGroup. According to an ESA press release, the task involved fueling the rocket and subsequently draining it, spanning a period of over 30 hours with three teams operating in 10-hour shifts.
This wet rehearsal marked the third occasion that Ariane 6 ground teams have executed a full launch countdown. The test was performed at night to evaluate operations under cooler ambient conditions.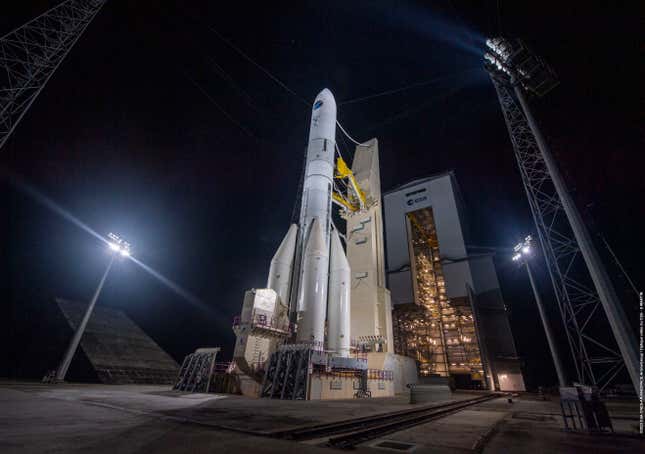 The Ariane 6 rocket uses cold liquid oxygen and hydrogen for fuel. Because of the extreme cold, the fuel can expand quickly if it warms up, which can cause frost on the rocket, especially in humid conditions. The rocket's tanks take a long time to fill and empty, requiring engineers to carefully manage the process, monitoring temperature and pressure. The test version of the Ariane 6 looks just like the real one but isn't meant to launch, though it includes genuine parts like the Vinci upper stage.
The next step in the process will be an eight-minute firing of the Ariane 6 rocket's primary engine—an important test that's expected to happen by the end of November. Arianespace hopes to launch the rocket for the first time early next year.
Ariane 6 has been in development for nearly 10 years. The 197-foot-tall (60-meter) launch vehicle can come in one of two versions, with either two or four side boosters. Its main Vulcain 2.1 engine and the Vinci upper stage both use a liquid hydrogen-oxygen mix, giving the rocket the strength to carry 10.3 metric tons to low Earth orbit.
Orion gets its Artemis 2 backpack
As ESA announced in a press release, the second European Service Module (ESM-2) has been integrated with the Artemis 2 Orion spacecraft. This marks an important milestone in the development of the upcoming Artemis 2 mission that will transport astronauts around the Moon and back, either next year or early 2025.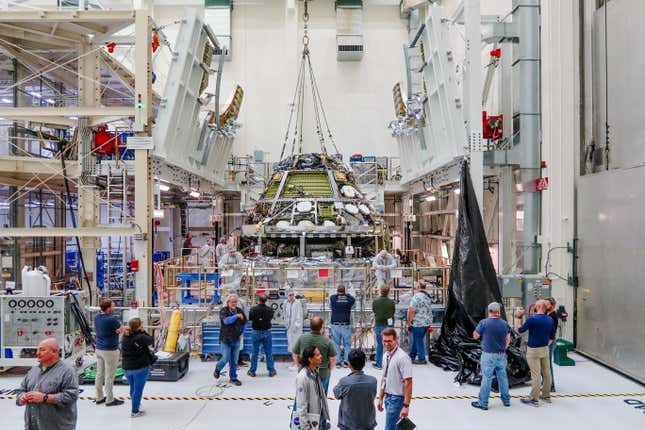 Having arrived at the Kennedy Space Center in Florida just over two years ago, ESM-2 has undergone extensive preparations. Technicians have worked to ready the Orion spacecraft for its future mission, which will carry a four-person crew on a lunar flyby.
The service module serves as a spacecraft's integral support unit, functioning much like a backpack by carrying all the vital supplies and equipment needed for a given mission, including power, propulsion, and life support systems. ESA also provided the service module for Artemis 1, which worked like a charm during the mission, which ran from November 16 to December 11, 2022.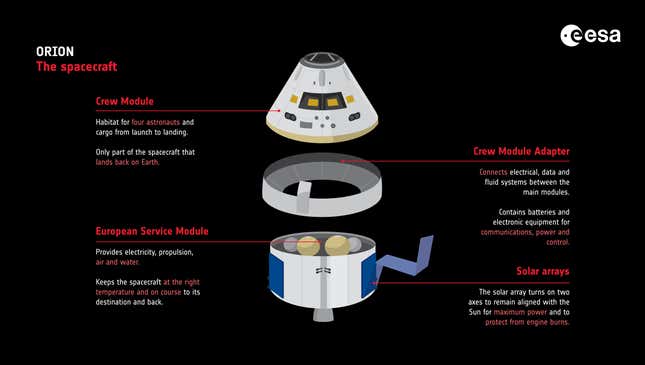 In terms of what's next, technicians will install solar wings to finalize the spacecraft's assembly, at which point it will be handed over to NASA's Exploration Ground Systems team for further preparations. This will involve filling the tanks with propellant, attaching the launch abort system, and, finally, connecting Orion to the Space Launch System (SLS).
Speaking of the megarocket, that's also taking shape, with NASA and its partners having recently installed all four RS-25 engines onto the booster. The timing of all this makes sense, given that the second SLS could fly in about a year's time.
That's a lot of rocketry developments for a single week. Here's to hoping that these updates will translate soon to future rockets and some exciting launches in the near future.
For more spaceflight in your life, follow us on X (formerly Twitter) and bookmark Gizmodo's dedicated Spaceflight page.
Daisy Hips is a science communicator who brings the wonders of the natural world to readers. Her articles explore breakthroughs in various scientific disciplines, from space exploration to environmental conservation. Daisy is also an advocate for science education and enjoys stargazing in her spare time.