You can consider this the start of NASA's Falcon Heavy era. The launch of the Psyche asteroid mission this week is the opening act among five launches the space agency has directly reserved on SpaceX's heavy-lift rocket over the next few years.
These Falcon Heavy flights will cut across NASA's portfolio of robotic space missions, dispatching probes deep into the Solar System, deploying a flagship-class astronomical observatory, sending up a weather satellite, and launching the keystone to NASA's Gateway mini-space station around the Moon.
The launch of the Psyche asteroid explorer, scheduled for Thursday from Launch Complex 39A at the Kennedy Space Center in Florida, kicks it off. "We've been preparing for this for several years, and we've benefited from SpaceX's manifest. They've launched four Falcon Heavies since last November," said Tim Dunn, a NASA launch director based at the Florida spaceport.
All told, we know of up to 10 Falcon Heavy missions on contract with SpaceX. Five of those are firm contracts with NASA's Launch Services Program, an office that procures launch services for the agency's robotic space missions, matching payloads with commercial rockets. Notable on this list is Europa Clipper, a $5 billion mission led by the Jet Propulsion Laboratory to explore Jupiter's icy moon Europa, an ocean world that may harbor environments conducive to life.
One of the Falcon Heavy rockets set to fly soon is for the US Space Force, and Astrobotic has booked two Falcon Heavy flights for commercial Moon landers that will carry NASA experiments to the lunar surface. There are two more Falcon Heavy bookings that SpaceX could use to launch resupply ships to the Gateway lunar station, perhaps in the late 2020s, although the status of those missions is unclear.
So it's fair to say NASA is involved—directly or indirectly—in driving demand for nine of the 10 Falcon Heavy missions currently in SpaceX's backlog.
"It's an incredible capability for our nation. We're fortunate to have it," Dunn told Ars in a recent interview. "If you look at the manifest, this is our first of a series of Falcon Heavies."
NASA's fearless commitment
Despite being overtaken by the recent debuts of NASA's Space Launch System and SpaceX's Starship mega-rocket, the Falcon Heavy is still the world's most powerful operational commercial rocket, capable of hauling nearly 64 metric tons (more than 140,000 pounds) of cargo into low-Earth orbit a couple hundred miles up if SpaceX expended all three of the rocket's first-stage boosters.
Setting aside propellant to recover the rocket's two side boosters eats into the Falcon Heavy's payload capacity, but the SpaceX heavy-lifter still outmatches any other rocket currently available to NASA. New rockets, like United Launch Alliance's Vulcan and Blue Origin's New Glenn, will come closer to Falcon Heavy's lift capability, but both launchers are unproven. ULA says it still has a chance to launch the first Vulcan test flight in December, and Blue Origin officials have said the New Glenn could debut next year. Those schedules could be generously described as optimistic.
The Falcon Heavy, meanwhile, is seven-for-seven since its inaugural launch in February 2018. It has launched commercial communications satellites and military payloads. The launch of NASA's Psyche mission will mark the eighth flight of a Falcon Heavy rocket. If schedules hold, SpaceX could launch a ninth Falcon Heavy mission at the end of November with a classified payload for the Space Force.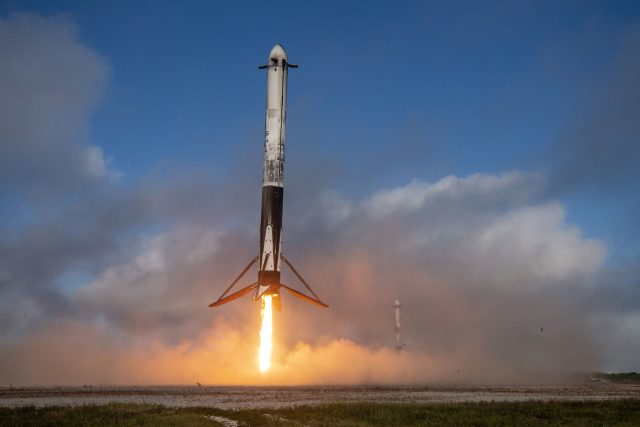 As of Monday, SpaceX's Falcon 9 rocket, which uses a single first-stage booster, has flown 68 times this year. Now SpaceX is falling into a rhythm with launching the larger Falcon Heavy, which combines three modified Falcon 9 boosters into a single rocket.
"I've come to really appreciate a lot of what they have brought to the industry, continuing to push the envelope in a number of different ways," Dunn said of SpaceX. "I would hope that they would say something along the lines that they have appreciated the engagement, the analytical and engineering rigor that NASA brings to the equation. I know, on the analytical side, software reviews, some of the hardware issues we've worked with them over the years, there have been a lot of times where we've arrived at a mutual agreeable solution that both parties brought value to."
Earlier this year, NASA engineers formally certified the Falcon Heavy rocket to launch the agency's most expensive robotic missions, according to Dunn. This level of certification is known as Category 3 in NASA parlance, requiring a minimum of three successful flights of a common launch vehicle configuration in addition to deep insight by NASA engineers into a rocket's design and a launch contractor's quality control processes. If a launch company eschewed this extensive government involvement, they would need to fly their launcher on 14 consecutive successful missions.
You can read more about NASA's launch vehicle certification requirements in this procurement document.
Daisy Hips is a science communicator who brings the wonders of the natural world to readers. Her articles explore breakthroughs in various scientific disciplines, from space exploration to environmental conservation. Daisy is also an advocate for science education and enjoys stargazing in her spare time.