Varda Space Industries says it has reached an agreement with a private range operator in Australia for spacecraft landings as early as next year after the US government declined to grant approval for the reentry of Varda's first experimental mission carrying pharmaceuticals manufactured in orbit.
After years of applications, reviews, and discussion, the Federal Aviation Administration and the US Air Force would not clear Varda's spacecraft to land at a military test range in the Utah desert last month. An Air Force spokesperson told Ars it did not grant approval for the landing "due to the overall safety, risk, and impact analysis."
Likewise, the FAA denied Varda's application for a commercial reentry license in early September. Varda's first small satellite mission launched The company's leaders say they are still working with the FAA and the Air Force in hopes of getting the spacecraft back to Earth in Utah in the coming months, but now they're looking at other options for future missions.
Varda eventually plans to launch regularly scheduled missions into low-Earth orbit to host pharmaceutical research experiments and manufacture drugs and other products in a microgravity environment. Fueled by venture capital funding, the California-based startup is launching an initial batch of four test missions to wring out the technologies required to make this vision a reality. Varda reported in June that it successfully grew crystals of ritonavir, a drug commonly used to treat HIV, inside its spacecraft a few weeks after launch.
One of the key technologies that needs to be tested is the reentry vehicle, a nearly 200-pound capsule approximately 3 feet (1 meter) wide that is mounted to the side of a satellite made by Rocket Lab. The reentry capsule will separate from the satellite shortly before plunging through the atmosphere, then release a parachute to slow for landing.
Delian Asparouhov, Varda's chairman, president, and co-founder, said the company always planned to have multiple landing sites. Varda prioritized the search for another landing range after it failed to obtain US government approval for the landing of the first mission.
"It's always been in the plan, but we definitely accelerated this," Asparouhov said.
Landing site diversity
The agreement between Varda and Southern Launch, a company based in Adelaide, Australia, would allow Varda's second mission, scheduled to launch in mid-2024, to reenter and land at the remote Koonibba Test Range.
"We plan, with the Koonibba Test Range, to conduct a reentry operation as soon as our second orbital mission, which the launch and reentry would be in mid-2024," Asparouhov told Ars. "To be clear, this isn't to say that we won't be reentering in the United States on some regular basis as well."
Asparouhov said it's good to have options for reentry, similar to how launch companies use different launch pads and spaceports. The military's Utah Test and Training Range is primarily used for military testing and exercises, although it has hosted a handful of NASA spacecraft landings, most recently the OSIRIS-REx asteroid sample return mission.
"In the United States, there are no dedicated ranges with their core mission, or even a secondary mission, being to support commercial space reentry over land," Asparouhov said. "Everything that's done today is either done in the ocean or at a military range, where this is explicitly not their core focus. We find it really exciting to be coordinating with Australia, partially because we see it as relatively emblematic of Western allies coordinating these types of national security missions in aerospace and defense."
The Koonibba Test Range is located in South Australia, about 350 miles (550 kilometers) northwest of Adelaide. It covers about 9,000 square miles (more than 23,000 square kilometers) of uninhabited land. Southern Launch says the range has hosted several suborbital rocket launches in recent years.
"In-space manufacturing is the next evolution of humanity's industrial capacity, and elements produced in orbit have the potential to change the course of history. We are excited to be partnering with Varda Space Industries to bring this emerging industry to Australia through the Koonibba Test Range," Lloyd Damp, CEO of Southern Launch, said in a statement.
Southern Launch said it will support Varda's plans for "high cadence reentry operations" at the Australia range.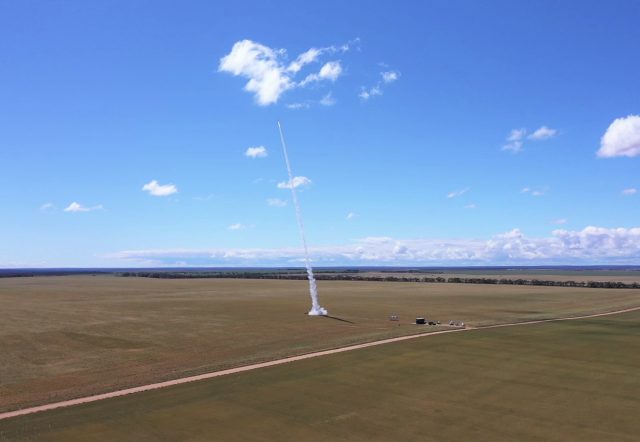 For Varda's second mission to reenter and land in Australia, the company will still need to secure a commercial reentry license from the FAA. The federal regulator has authority to license commercial space launches and reentry operations by all US companies, no matter where the operations occur. For example, Rocket Lab's launches from New Zealand require FAA approval.
Asparouhov said he anticipates it will be easier to obtain approval from the FAA and Australian regulators for reentry to the Koonibba Test Range. There is less air traffic that would need to be rerouted in that area than over Utah, and Varda would not compete with military operations for schedule priority at the Australia range as it would at the Utah Test and Training Range (UTTR).
In Varda's first public comments on the US government's denial of the company's reentry request, Asparouhov said the primary challenge was coordinating schedules between Varda, the FAA, and the military. While the Utah range has accommodated NASA spacecraft landings, it hasn't done so for a commercial mission.
"If you look at some of the initial challenges with our first mission, it ultimately just comes down to the fact that Varda, FAA, and UTTR have never attempted something like this," he said. "It's pretty complicated to align all these organizations that have a variety of different regulatory approvals and safety officers."
Finding a time when the Utah range was clear, the FAA could clear air traffic, and Varda could be ready to land the spacecraft proved too much to overcome during a narrow reentry window in early September. Asparouhov said Varda is coordinating with the FAA and the Utah range for another reentry window "in the coming months" for the company's first spacecraft, which has, so far, performed well. He said it would be nice to get the capsule back on Earth, and Varda is confident it can safely do so, but it is not critical to the company's future plans.
"I'm very happy that we even got to this point, where all systems are nominal on the spacecraft; we were able to manufacture the pharmaceuticals," he said. "Even if we're not able to bring the capsule back into the atmosphere, potentially even just test-firing the propulsion system on board significantly de-risks our understanding of how future missions will operate."
Varda also won a contract with the US Air Force earlier this year to use its re-entry vehicles as test platforms for materials that could be used on hypersonic missiles and aircraft. Asparouhov said he would like to see military ranges, like the one in Utah, make changes to support the commercial spacecraft reentries, like the way the Space Force's launch ranges accommodate commercial launches.
Nevertheless, Asparouhov echoed comments by other US space companies this week regarding the FAA's inability to keep pace with the industry. It's taking longer for the FAA to determine licensing requests as companies launch more missions. Reentry licensing is still relatively new. There just aren't as many reentry vehicles flying, and only two companies have received a commercial FAA reentry license to date. Varda would be the third.
"The commercial space industry is going through explosive exponential growth in terms of cadence, mass to orbit, complexity of operations, whether it's things like reentry or responsive launch, and ultimately, I think you're starting to see those breaking points in terms of how stretched they are," Asparouhov said of the FAA.
"With something like Varda, it's just not possible to wait until three days before reentry to make a licensing determination," he said. "Unlike launch, there's just a much larger set of players that are unaccustomed to this type of activity that need to be coordinated with. One of the coordination challenges that we faced is getting FAA resources far ahead of an operation … so that we can make a licensing determination far in advance of a particular activity."
"There's no way to do it with the FAA's current staffing level," he said. "The entire industry is feeling this pain point."
Daisy Hips is a science communicator who brings the wonders of the natural world to readers. Her articles explore breakthroughs in various scientific disciplines, from space exploration to environmental conservation. Daisy is also an advocate for science education and enjoys stargazing in her spare time.